Anatomy of Injustice by Raymond Bonner
Author:Raymond Bonner [Bonner, Raymond] , Date: June 9, 2016 ,Views: 1142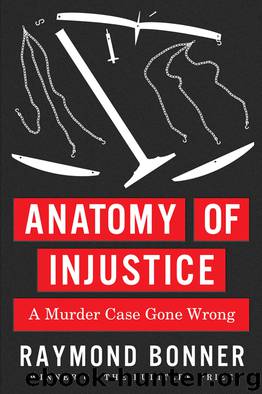 Author:Raymond Bonner [Bonner, Raymond]
Language: eng
Format: epub
ISBN: 978-0-307-95736-8
Publisher: Knopf Doubleday Publishing Group
Published: 2012-02-20T16:00:00+00:00



Justice Blackmun was the lone voice for review, and on Texas death row, awaiting his execution, Callins wrote the justice a short letter thanking him. "I hope you are at peace within yourself for doing as you did," he wrote. Callins was strapped to the gurney on May 21, 1997.
The Supreme Court in Herrera, however, left open the possibility that a defendant's claim of innocence might entitle him to a new trial. But it would require "a truly persuasive demonstration" of actual innocence, and the threshold for making the claim was "extraordinarily high," the court said. Maybe impossibly high. Not even contradictory statements by prosecutors about who committed a murder were enough.
Jesse Dewayne Jacobs was arrested for killing Etta Urdiales, the wife of his sister's boyfriend, who had been abducted, taken to the woods, placed on a sleeping bag, and shot in the head with a .38. Jacobs confessed to the police. But at trial, he said that in fact his sister Bobbie Hogan had killed Urdiales. The jury found Jacobs guilty and sentenced him to death. Several months later, the State of Texas charged Hogan with the murder. Now the prosecutor, the same man who had prosecuted Jacobs, told the jury that the state had been wrong in saying Jacobs had killed Urdiales. After further investigation, he said, he had concluded that Hogan had in fact committed the crime. The jury convicted Hogan of involuntary manslaughter.
Jacobs sought a new trial, arguing that the state was now saying he had not killed Urdiales, that it had, in effect, disavowed the evidence on which it had convicted him. The U.S. Supreme Court declined to take the case, 6–3. "I find this course of events deeply troubling," said Justice Stevens, who voted to hear the case. "It would be fundamentally unfair to execute a person on the basis of a factual determination that the state has formally disavowed." Jacobs was executed on January 4, 1995.
The Jacobs case is not unique. In Texas, James Lee Beathard was executed, in 1999, for the murder of Gene Hathorn Sr., his wife, and their fourteen-year-old son while they were watching television in their mobile home in East Texas. No physical evidence connected Beathard to the crime—no fingerprints, no footprints, no blood. He was convicted largely on the testimony of an accomplice, Gene Hathorn Jr., who harbored a deep hatred of his father and thought he would inherit under his father's will. "Hathorn might be a cold-blooded killer, but there hasn't been any evidence in this courtroom that he is a liar," the prosecutor, Joe L. Price, said during his closing argument at Beathard's trial. Several months later, the prosecutor tried Hathorn, who again pinned the blame on Beathard. Now, in his closing argument to the jurors, Price said that if they believed Hathorn, "I'm a one-eyed hunting dog." Hathorn was also sentenced to die. (His conviction was eventually reversed by the Texas Court of Criminal Appeals, and in a plea agreement, he was sentenced to life in prison.
Download


Copyright Disclaimer:
This site does not store any files on its server. We only index and link to content provided by other sites. Please contact the content providers to delete copyright contents if any and email us, we'll remove relevant links or contents immediately.