Dietrich Bonhoeffer: In the Midst of Wickedness by Janet Benge & Geoff Benge
Author:Janet Benge & Geoff Benge [Benge, Janet & Benge, Geoff] , Date: June 3, 2020 ,Views: 46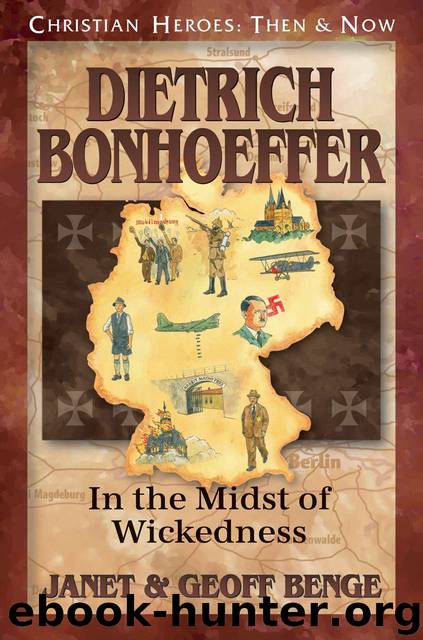 Author:Janet Benge & Geoff Benge [Benge, Janet & Benge, Geoff]
Language: eng
Format: epub
Tags: Biography & Autobiography, Historical, Religious, Juvenile Nonfiction, Christian
ISBN: 9781576587133
Google: KkLqnQEACAAJ
Amazon: 1576587479
Barnesnoble: 1576587479
Goodreads: 17274938
Publisher: YWAM Pub.
Published: 2012-03-31T22:00:00+00:00



Chapter 11
England
In the fall of 1933, Dietrich was asked to take on the job of pastoring two churches in London, England. The two churches were under the same umbrella organization as the German church in Barcelona. At first Dietrich wasn't eager for the job. He knew he was needed in the fight against Nazi intrusion into the Christian church. Yet as he thought and prayed about the situation, Dietrich realized he could do a lot of useful things from outside of Germany. He could serve as a spokesperson to the world about what was going on, and he could help raise support for German Christians resisting the "synchronization" of the church with the Nazis.
On October 17, 1933, Dietrich found himself standing outside a large, old brick house in Forest Hill, a southern suburb of London. He looked up at the second floor, where a visiting pastor told him he would be staying. "Just the two rooms," the man said, "although they're very large. The rest of the house is used as a German-speaking school, so you'll have the place to yourself at night."
Dietrich smiled and picked up his suitcase. "I'm sure it'll be fine," he responded. The house, though, lacked German precision. Even from the outside Dietrich could see that the window frames didn't line up, leaving gaping holes for the wind to whip through. Sure enough, the house was drafty and cold, and it had no central heating. The only heat came from two coin-operated gas heaters that emitted a weak flame. Dietrich joked that he had to sit on top of one of the heaters to feel any warmth.
Still, most of Dietrich's work was done away from the house. Dietrich was in charge of two very different German-speaking congregations. One church, located in Sydenham, included about forty people, most of whom worked at the German embassy in London. The other congregation, St. Paul's in London's East End, consisted of working-class German immigrants. Some of these people spoke only German, while their children tended to speak English. Dietrich was happy to pastor these two different groups. He loved both the intellectual stimulation of keeping up with the embassy staff and the challenge of helping the poorer, downtrodden immigrants at St. Paul's.
Life in London developed into an easy pattern for Dietrich. He had sermons to prepare and church members to visit. He also had weddings, funerals, and baptisms to officiate—all the usual pastoral duties Dietrich enjoyed so much. There was also another side to his work. Each morning Dietrich scoured The Times newspaper looking for information on Germany. It was hard to know what was true and what wasn't, as the Nazis were excellent at propaganda. Throughout the day he often talked with his mother on the telephone and with fellow pastors or his brothers. The news he gathered from these conversations was alarming. Just before Dietrich left Germany, a new law was passed stating that spouses of Jews were to be treated as if they were also Jewish. Dietrich was concerned even more about his sister Sabine, her husband Gerhard, and their two daughters.
Download


Copyright Disclaimer:
This site does not store any files on its server. We only index and link to content provided by other sites. Please contact the content providers to delete copyright contents if any and email us, we'll remove relevant links or contents immediately.