Cricket's Strangest Matches by Andrew Ward
Author:Andrew Ward , Date: August 5, 2020 ,Views: 167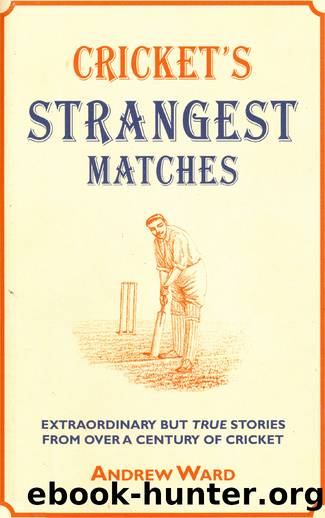 Author:Andrew Ward
Language: eng
Format: epub
ISBN: 9781910232453
Publisher: Pavilion Books
Published: 2015-05-31T16:00:00+00:00



After 83 years and 502 Tests, cricket produced equality between two Test teams in a match that had all the qualities of strangeness, particularly in the last hour when the game went out of control and into the realm of fantasy. This was the first match of the 1959-60 Australia-West Indies series, the 16th Test between the two countries.
The last Test played at Brisbane, against England two years previously, had brought only 518 runs in four days. West Indies, batting first, came within sight of that on the first day. Gary Sobers made a sensational century in 125 minutes. When he was finally out, to the day's worst ball, he had made 132 in 174 minutes. Frank Worrell batted almost as long for his 65 and by the end of the day West Indies were 359 for seven.
The next morning Wes Hall made a flamboyant 50, and the Australians replied to a total of 453, reaching 196 for three by the end of play.
The third day was dominated by Norman O'Neill, who had three fortunate escapes between 47 and 54 but went on to make 181. Nightwatchman Les Favell did well, Ken Mackay chewed gum and made a few, and Alan Davidson added 44 runs to his five wickets. Australia took a first-innings lead of 52.
O'Neill's innings swung the game back towards Australia. By the close of the fourth day, West Indies were 259 for nine, only 207 ahead. They were grateful for an innings by Joe Solomon which lasted 222 minutes. Fortunately, for the West Indies (and all cricket fans who relished the game's eventual finish), Wes Hall and Alf Valentine took their last-wicket stand to 31. Most neutrals reckoned that the Australian target, 233 in 312 minutes, was certainly attainable.
Most neutrals, however, reckoned without the poor start to Australia's second innings. After being 28 for two at lunch on the final day, made in 70 minutes, they tumbled to 57 for five. At that point 176 were needed in 200 minutes. In those days runs per hour were what counted. There were no minimum overs to be bowled in the last hour.
Davidson and Mackay put on 35 in an hour. The target at tea, 123 in 120 minutes with four wickets remaining, looked increasingly beyond Australia's reach. That calculation reckoned without a stand between two quick-scoring batsmen – Alan Davidson and Richie Benaud, the Australian captain. They scored at the required rate, and the target came down accordingly – 80 needed in 75 minutes, 60 in 60 minutes, 27 in 30 minutes. When the West Indies took the new ball, Australia still had four wickets in hand. There was time for five eight-ball overs.
Wes Hall's first over, which took nine minutes to bowl and included a no-ball, had plenty of action. Four singles and a four from Davidson, hooked from a bouncer, brought the target down to 19. Benaud was almost caught, and, off another ball, Davidson ran almost to Benaud's end and back, just avoiding a run-out.
Gary
Download


Copyright Disclaimer:
This site does not store any files on its server. We only index and link to content provided by other sites. Please contact the content providers to delete copyright contents if any and email us, we'll remove relevant links or contents immediately.