Company Wars #04 - Merchanter's Luck by C. J. Cherryh
Author:C. J. Cherryh [Cherryh, C. J.] , Date: August 3, 2020 ,Views: 42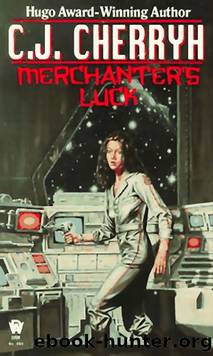 Author:C. J. Cherryh [Cherryh, C. J.]
Language: eng
Format: epub
Amazon: B0006FACEI
Publisher: DAW Books
Published: 1982-12-23T00:00:00+00:00



* * *
Chapter X
Leaving Dublin was a tumult of good-byes, of cousin-friends hugging and looking like tears; Ma'am with a look of patience; and Megan and Connie—Connie snuffling, and Megan not— Megan with that data-gatherer's focus to her stare that most acquired in infancy, who got posted bridge crew, wide-scanning the moment, too busy inputting to output, even losing a daughter. And in that, they had always understood each other—no need for fuss, when it stopped nothing. Allison hugged her pregnant sister, listened to the snuffles: hugged her mother longer, patted her shoulder. "See you," she said. "In not so many months, maybe."
"Right," her mother said. And when she had begun picking up the duffel and other baggage in a heap about her feet: "Don't take chances."
"Right," she told Megan, and shouldered strings and straps and picked up the sacks with handles. She looked back once more, at both of them, nodded when they waved, and then headed out of the lock and down the access tube to the ramp, leaving her three companions to muddle their own way off through their own farewells.
Her leaving had an element of the ridiculous: instead of the single duffel bag she might have taken, she moved all her belongings. It was not the way she had started. But she found excuses to take this oddment and that, found sacks and bags people were willing to part with, and ended up going down the ramp and across the docks loaded with everything she owned, a thumping, swinging load she would have done better to have called a docksider to carry. But it was not that far to walk; and the load was not that heavy, distributed as it was. She had her papers, her IDs and her cards and a letter tape from Michael Reilly himself that advised anyone they cared to have know it, that Lucy was an associate of Dublin Again—in case, the Old Man put it, you have credit troubles somewhere.
God forbid they met someone with some grudge Stevens had deserved for himself in his previous career.
Or trouble with the military out there. She was far less sanguine about the voyage than she had been when she conceived it. The neat control she had envisioned over the situation had considerably unraveled.
But she went, and the others would, for the same reasons, and if it should get tight out there, then they would handle it, she and her cousins. To sit a chair before she died of old age—it was that close; and no threat, no sting of parting was going to take it from her.
She kept walking—the first, she knew, of her unit to leave Dublin, headed for Lucy's dock. She had had to go up the emergency accesses to get her belongings, and pack while clambering back and forth down the angle of deck and bulkhead, no easy proposition: was tired and had visions of bed and sleep. There was no question of spending her last night on Dublin. There was no room, the onboard sleeping accommodations filled with others with more seniority.
Download


Copyright Disclaimer:
This site does not store any files on its server. We only index and link to content provided by other sites. Please contact the content providers to delete copyright contents if any and email us, we'll remove relevant links or contents immediately.