Celus-5 by S. H. Jucha
Author:S. H. Jucha , Date: January 14, 2021 ,Views: 27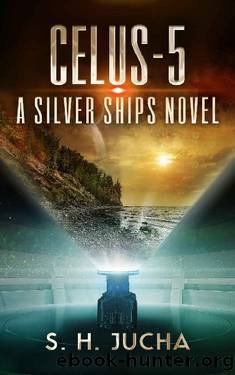 Author:S. H. Jucha
Language: eng
Format: mobi
Publisher: Hannon Books, Inc.
Published: 2017-03-01T18:30:00+00:00



-17-
Many Nests
It was early morning when Alex checked in with the mission's Swei Swee medical specialist on the statuses of the recovered foursome.
"Credit must be given to Terese Lechaux, Dassata," Davi said. "Her instructions for medical emergencies that might befall the Swei Swee were exhaustive. I must admit that I thought many of them unnecessary, but throughout yesterday evening and morning I have been exchanging plasma bags for the four of them. Swei Swee body fluid … who would have thought of that?"
"Terese," the two men said quietly, laughing together.
"Then they're stable?" Alex asked.
"They'll be fine, Dassata. Medically, it was a lack of fluids and food, although Teague has been explaining to me that much of their condition was due to an encroaching malaise. Something about being separated from their community. However, I expect them to make a full recovery within a few days."
Alex was trying to ignore the use of the Dischnya title by the crew, but he was fighting a losing battle. Harakens had twenty years of history, during which they addressed Alex by an appellation. Offered an opportunity to adopt a new title for him, even an alien one, the crew members had seized on it.
Stepping outside the medical suite, Alex found his son waiting for him. Teague's hands had undergone hours of work by Pia and her team to restore order to the bones. He was young and carried nanites in his blood since the day he was born. He would be completely healed within another day.
"I'm going with you to meet the queen," Teague said, his tone demanding.
"That's not a good idea, son," Alex replied.
"Yes, it is. I have a few things to say to her."
"That's why it's not a good idea, Teague. You need to stay here."
"You're not mission commander. I can ask Captain Shimada," Teague said, defiantly.
"Shall we go wake the captain, son?" Alex asked mildly. He understood Teague's anger after learning that the Dischnya were mortal enemies of his beloved Swei Swee, but the last thing Alex needed was to have his temperamental son in a delicate conversation with the queen. He wasn't even sure what he was going to say.
Teague knew his father had called his bluff. He wouldn't dare go above him and ask the captain. First and foremost, the captain would defer the decision to his father, and, second, he wouldn't want it known that he had tried to circumvent his father.
As the son of the famous Alex Racine, Teague felt he lived in a conundrum. No one knows how to treat me, Teague fumed internally. But that wasn't true either, he admitted. Humans and SADEs close to Alex treated him as a normal teenager. His problem was that their consideration didn't often match his desires. Sometimes they angered him by not paying him more deference, and then, at other times, they were generous when he felt little need for their attention.
"Son," Alex said, reaching up to cup his boy's neck with a warm hand. "Your friends are sleeping and recovering.
Download


Copyright Disclaimer:
This site does not store any files on its server. We only index and link to content provided by other sites. Please contact the content providers to delete copyright contents if any and email us, we'll remove relevant links or contents immediately.