Buying a Bride by Zug Marcia A.;
Author:Zug, Marcia A.; , Date: June 27, 2016 ,Views: 695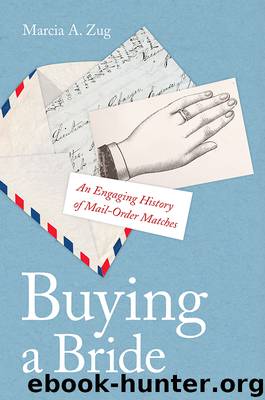 Author:Zug, Marcia A.;
Language: eng
Format: epub
Tags: HIS036000 History / United States / General
Publisher: NYU Press



A group of female immigrants denied admission and waiting to return home. Library of Congress.
Marriage also helped would-be female immigrants by protecting them from accusations of prostitution or other types of immorality that were frequently leveled at single female immigrants, preventing their entry into the United States. In 1881, in one of the first immigration "immorality" cases, Leong Shee arrived in San Francisco to reunite with her husband. At the time of Shee's immigration, American immigration officials suspected most Chinese women of immigrating for prostitution. However, Shee overcame this suspicion by convincing the officials that she was a legitimate wife. She argued that her bound feet indicated her "respectability."68
Similarly, Martha Ash, a young woman from New Zealand immigrating to meet her fiancé, was nearly denied entry in 1918 after immigration officials received allegations of improper behavior aboard the ship. Ash was accused by some passengers, including her fiancé's brother, of having become too friendly with a number of the boat's other passengers and behaving in a manner "not proper for young single women."69 In the end, only the fact that Ash's fiancé was willing to marry her despite these rumors ultimately convinced immigration authorities of her moral character.70 Shee and Ash used their status as wives to overcome suspicions of immorality, but single immigrant women lacked this protection. Marriage served as an important safeguard against inadmissibility.
The benefits of matrimonial immigration became even more pronounced after 1921, when the Quota Act radically limited the number of new immigrants permitted to enter the United States through quotas tied to country of origin and that country's percentage in the U.S. population in 1910 (later changed to 1890). The goal of the act was to limit the number of immigrants arriving from Eastern and Southern Europe, but these quotas did not apply to wives. Marital immigration thus made it possible for many otherwise ineligible women to immigrate to the United States. For these women, the benefit of admittance outweighed the negatives of marrying a stranger.
In the book Rosa, which recounts an Italian woman's journey to America, the author, Rosa, describes crossing the Atlantic in 1884 with two mail-order brides. At one point, one of the brides, Francesca, states, "Look at me . . . I'm going to marry a man I've never seen in my life. And he's not Lombardo—he's Toscano. But I'm not afraid." According to Rosa, "[Francesca] was so happy she was going to America and going to get married that she didn't care who the man was."71 Mail-order marriage aided women like Francesca by increasing their likelihood of entry; it also helped by making the desire to immigrate more socially acceptable.
Francesca was Italian, and at the time of her immigration, Italian mores dictated that respectable women could travel with a husband or chaperone but never by themselves. This disapproval of single female immigration is tellingly demonstrated in a popular Italian folk song from the period highlighting the dire consequences that could befall women who attempted immigration on their own. The song
Download


Copyright Disclaimer:
This site does not store any files on its server. We only index and link to content provided by other sites. Please contact the content providers to delete copyright contents if any and email us, we'll remove relevant links or contents immediately.