Bligh by Rob Mundle
Author:Rob Mundle , Date: December 4, 2017 ,Views: 1078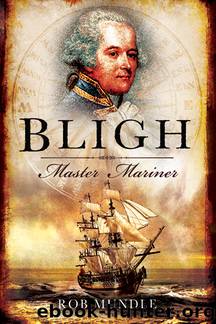 Author:Rob Mundle
Language: eng
Format: epub
Tags: Bisac Code 1: TRA006010: TRANSPORTATION / Ships & Shipbuilding / History
ISBN: eBook ISBN: 9781783378418
Publisher: Pen and Sword
Published: 2013-01-19T05:00:00+00:00



Gales and very squally weather with a high breaking sea, so that we are miserably wet and suffer great cold in the night. In the morning at day break I served to every person about a teaspoon full of rum … Our limbs being so cramped as scarce to feel the use of them. Our situation was now highly dangerous, the sea frequently running over our stern which kept us bailing with all our strength. At noon the sun appeared which gave us as much pleasure as in a winter day in England.
Then the next day: 'Having again experienced a dreadful night, the day showed to me a poor, miserable set of beings full of wants but nothing to relieve them. Some complained of great pains in their bowels, and all of having but little use of their limbs. What sleep we got was scarce refreshing being covered with sea and rain, and two persons were always obliged to keep bailing.'
Hour after hour, day after day, the gales and heinous conditions continued unabated, as did the suffering for the men. Since there was no chance of drying their clothes, Bligh told everyone to strip down and wring their clothes in the ocean: 'by which means they received a warmth which they wouldn't have enjoyed while wet with rain. It would assist them in being more exempt from catching cold, and violent rheumatic complaints … constantly shipping water and very wet suffering much cold and shivering in the night … constantly bailing.'
First light had barely presented itself at six o'clock on the morning of 14 May when, in the distance, stretching from the port aft quarter to the port forward quarter of the launch, there were four large and high islands, between eighteen and twenty-two nautical miles away. During the next six hours they sighted two more islands, and more came within the following twenty-four hours. These were the New Hebrides, but Bligh remained uncertain because, without any charts, he had no way of confirming it. Like all European explorers venturing into this region, he knew of the existence of the New Hebrides: they had been discovered in 1602 by Spaniard Pedro Fernáez de Quirós a man who, unfortunately for him, was best remembered for being the least significant of all the great Portuguese and Spanish explorers over two centuries. Because the main island was so large, Quirós hought he had discovered the much searched for Great Southern Continent, so he named it Terra Australis del Espiritu Santo – the Southern Land of the Holy Spirit. Immediately after this discovery his sailors mutinied and forced him to sail home to Spain – so he didn't get to explore any of his find.
Reaching the New Hebrides meant that in two weeks these eighteen abandoned men had already defied an almost certain death and covered some 1,200 nautical miles of treacherous open ocean at an average of 4 knots – and they were about halfway to the coast of New Holland. This should
Download


Copyright Disclaimer:
This site does not store any files on its server. We only index and link to content provided by other sites. Please contact the content providers to delete copyright contents if any and email us, we'll remove relevant links or contents immediately.