Bill Gates by Michael Becraft
Author:Michael Becraft [Michael B. Becraft] , Date: November 18, 2017 ,Views: 1139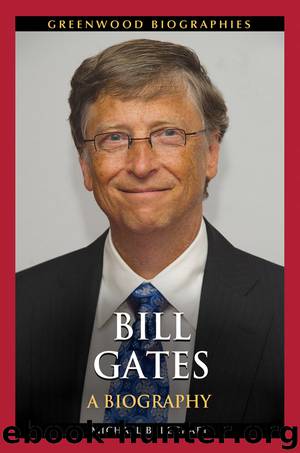 Author:Michael Becraft [Michael B. Becraft]
Language: eng
Format: epub
ISBN: 9781440830143
Publisher: ABC-CLIO



Bill Gates giving his ill-fated testimony before the Senate Judiciary Committee, in March, 1998. (AP Photo)
However, in May 2000, the article further noted: "Securities analysts and some antitrust experts say the odds that Microsoft will eventually be split in two are remote. Even if Judge Jackson were to order such a split, he is very likely to be reversed on appeal." Effectively, the experts did not believe that Microsoft would ever be split even if Judge Jackson made a ruling that the best regulatory option would be splitting Microsoft into two firms; this bit of light foreshadowing tells us what happens next.33
The order to break apart Microsoft was issued by Judge Thomas Penfield Jackson on June 7, 2000. Appeals of this verdict were certain, as is the case of most highly contested trials. However, the future of Microsoft seemed a little dimmer at the time. The judge explicitly called for:
the separation of the Operating Systems Business from the Applications Business, and the transfer of the assets of one of them (the "Separated Business") to a separate entity along with (a) all personnel, systems, and other tangible and intangible assets (including Intellectual Property) used to develop, produce, distribute, market, promote, sell, license and support the products and services of the Separated Business, and (b) such other assets as are necessary to operate the Separated Business as an independent and economically viable entity.34
When reading the judgment, one can discern that Judge Jackson defined the "operating system business" first (although that definition is much later in the document), then made the "applications business" everything not included in the operating system business. And by everything else, he meant everything else.
"Operating Systems Business" means the development, licensing, promotion, and support of Operating System Products for computing devices including but not limited to (i) Personal Computers, (ii) other computers based on Intel x86 or competitive microprocessors, such as servers, (iii) handheld devices such as personal digital assistants and cellular telephones, and (iv) television set-top boxes.
"Applications Business" means all businesses carried on by Microsoft Corporation on the effective date of this Final Judgment except the Operating Systems Business. Applications Business includes but is not limited to the development, licensing, promotion, and support of client and server applications and Middleware (e.g., Office, BackOffice, Internet Information Server, SQL Server, etc.), Internet Explorer, Mobile Explorer and other web browsers, Streaming Audio and Video client and server software, transaction server software, SNA server software, indexing server software, XML servers and parsers, Microsoft Management Server, Java virtual machines, Frontpage Express (and other web authoring tools), Outlook Express (and other e-mail clients), Media player, voice recognition software, Net Meeting (and other collaboration software), developer tools, hardware, MSN, MSNBC, Slate, Expedia, and all investments owned by Microsoft in partners or joint venturers, or in ISVs, IHVs, OEMs or other distributors, developers, and promoters of Microsoft products, or in other information technology or communications businesses.35
In the accompanying Memorandum and Order, Jackson stated that Microsoft lawyers knew all along that breaking up the company was possible,
Download


Copyright Disclaimer:
This site does not store any files on its server. We only index and link to content provided by other sites. Please contact the content providers to delete copyright contents if any and email us, we'll remove relevant links or contents immediately.