Beard by Rainwaters Matthew
Author:Rainwaters, Matthew [Rainwaters, Matthew] , Date: November 24, 2015 ,Views: 1578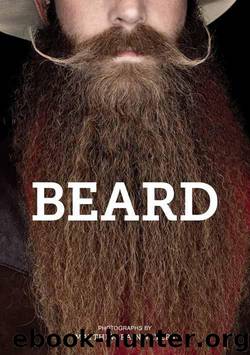 Author:Rainwaters, Matthew [Rainwaters, Matthew]
Language: eng
Format: epub
Publisher: Chronicle Books LLC
Published: 2012-03-01T22:00:00+00:00



JORDAN DAUBY | Cathedral City, CA
JOSH SPENCER | Los Angeles, CA
KENNETH C. FELBER | Anchorage, AK
MAX ZIMMERMAN | Danville, CA
ALLEN DEMLING | Austin, TX
HANS HORST | Moos, Germany
LEO LITOWICH | Grand Rapids, MI
JAMES MOODY | Austin, TX
ADAM SCOTT PAUL | Los Angeles, CA
NICHOLAS STEVENS | Ashland, OH
THE ASCENSION OF THE IMPERIAL
PATRICK MELCHER
BEFORE THE WORLD BEARD AND MOUSTACHE CHAMPIONSHIPS, I did my homework: studied the categories, looked into the previous winners and reigning champions. I played with various pomades, waxes, and even the soap charges that a good punk-rocker should know. I had a good bit of confidence after my beard club (the Bristly Chaps of Los Angeles) voted me most likely to bring home a medal. I'd been growing this thing for two years and was dying to give it a glorious sendoff with a shave the day after the event.
We got there the day before the competition. All of the contenders, former champions, and families of fans were trotting through twenty blocks of downtown Anchorage while chanting, hollering, and doing walking interviews for various news programs. If you've never seen the parade of beards before, imagine St. Patrick's Day without the green. Truly a sight to behold.
Pitted against sixty-year-old dudes with names like Günter Rasmussen and Schani Mitterhauser, I was sure that I had no chance. This was their life. Traveling the globe, styling up their facial pubes, and repping it hard. These dudes had it all down to a science. Decades of competitive bearding had given the Germans and Hungarians an identity, given the Russians even more of a reason to be smug, and even gotten this one British dude on a Wheaties box.
I was so nervous before the competition I had to pee every five minutes. And it was in the bathroom where a Gandalf clone leaned over to me and said, "I can't wait for this weekend to be over so I can lop about eight inches off this thing. Every morning I end up pissing all over the bottom half of it." I was too nervous to even be disgusted by the yellowish stains that had turned it into a two-tone chin windsock.
I sat through nine categories of moustaches and sideburns while sweating under spotlights and waiting for my turn in the Imperial category. I couldn't wait to take that long walk down the runway, lean over in front of the judges, and be inspected like some Irish setter for Best in Show. Fifty other dudes were in my category. Dudes who hold five-year trophies and dudes who have the genetics and breeding that have evolved specifically over millions of years for premium hair growth.
As I walked across the runway, I noticed that I was sandwiched between a guy who looked like a 1950s porn actor and a dude in a 1920s bodybuilder costume. The cool part of it all is that directly after everyone in your category has been seen, the judges have a meeting and announce the winners. You don't have to wait until the end of the whole event for the results, so it really is like beard Olympics.
Download


Copyright Disclaimer:
This site does not store any files on its server. We only index and link to content provided by other sites. Please contact the content providers to delete copyright contents if any and email us, we'll remove relevant links or contents immediately.