Good by S. Walden
Author:S. Walden [S. Walden] , Date: March 26, 2014 ,Views: 2606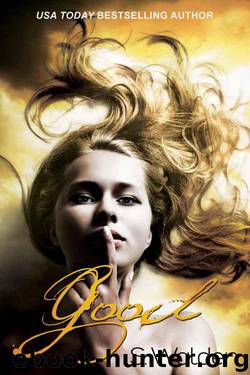 Author:S. Walden [S. Walden]
Language: eng
Format: epub, mobi
Published: 0101-01-01T00:00:00+00:00



It was late. We were both tired. But neither one of us wanted to sleep. Sleep was a waste of time, and we had no time to spare. I sat on his lap straddling his thighs. I think it was his favorite position.
"You are the prettiest little thing," he said, running his fingers through my hair. He let it fall over my shoulders, then cupped my face to draw me close to him.
He kissed me softly, his lips barely brushing my open mouth, and I could taste his breath warm and moist on my tongue. I licked his lips exactly the way he liked, running my tongue over his bottom lip slowly, teasingly, until he grunted and pressed his mouth firmly to mine. It was too easy for him, and I didn't resist when he gently pulled down my tube top, exposing my strapless bra. He broke our kiss, pushing me back a little ways to look at my chest.
"Your bra is pretty," he said.
"Thank you," I replied. I wore this particular bra tonight because it was so pretty: lacy and black with pearls between the cups.
"I wanna take it off you," Mark said.
I shivered. He liked to tell me what he was going to do to me. In a mathematical sort of way. Blunt, precise. No room for misunderstanding. It never ceased to catch me off guard and make me blush.
I tried for humor. "Shouldn't you touch my breasts over my bra first? Isn't that the way it's done? Ease into it?"
"Would that make it easier for you?" he asked.
And now I blushed harder.
"Tell me what you want, Cadence," Mark said. He traced my collarbone with his forefinger.
"Please don't make me," I whispered, hanging my head. I didn't like voicing aloud my sexual wants. It felt like something a more experienced lover would do, and I was certainly not that.
"Does it embarrass you?"
"A little. I mean, I don't even know what I want anyway."
"Well, do you want me to touch you?"
"Yes."
"Where?"
I hesitated for a split second. "Here," I said, cupping my breasts.
"Then you know what you want," Mark replied.
He placed my hands in my lap then ran his finger over the top of my bra, starting on the left side and following the heart-shaped curve slowly and thoughtfully.
"Women have the most beautiful clothing," he said, fingering the tiny pearls between my breasts.
He was in a trance, staring at my bra, thinking. About what? His next move? Surely he knew because he was an experienced lover. An out-of-my-league lover.
He reached behind me and unhooked my bra. Instinctively my hands flew to my breasts, pressing the garment against my skin before it fell away. Mark smiled.
"We don't have to do anymore if you don't want," he said. There was no trace of disappointment in his words, but I wasn't a fool. He was so close to seeing my bare breasts, and there was no way he wouldn't feel a little frustrated if I said no. He would be respectful of me while he nursed his silent frustration.
Download


Copyright Disclaimer:
This site does not store any files on its server. We only index and link to content provided by other sites. Please contact the content providers to delete copyright contents if any and email us, we'll remove relevant links or contents immediately.