American Polygamy by Craig L. Foster
Author:Craig L. Foster , Date: October 14, 2019 ,Views: 234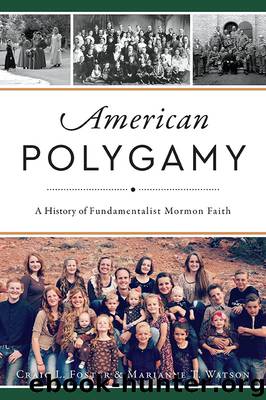 Author:Craig L. Foster
Language: eng
Format: epub
Publisher: Arcadia Publishing Inc.
Published: 2019-10-13T16:00:00+00:00



Peterson Group Temple sign.
Some of the Righteous Branch's religious tenets are similar to those of both the LDS Church and the AUB. For example, adherents follow the Word of Wisdom, which forbids the consumption of alcohol, tobacco or even hot caffeinated drinks like coffee and tea. But the Righteous Branch goes one step further; it forbids eating pork or chocolate. The branch also believes in temple work and built a pyramid-shaped temple near Modena, approximately fifty miles west of Cedar City, Utah, as well as one in Tonopah. Their temples are plain on the outside as they "are a very reticent people, with good reason," and prefer not to attract attention, but the structures are more beautifully appointed on the inside.
THE 1980S: A TIME OF GROWTH AND RELATIVE PEACE
Fundamentalist groups enjoyed relative peace and more openness about their plural marriages because of little threat of surveillance and prosecution. The fear of raids had dissipated a great deal, and while older generations remembered the difficult days of prosecution and persecution, the younger generation did not sense imminent threat, only caution.
In the 1980s, the AUB community in Ozumba, Mexico, prospered even though the country was suffering severe economic inflation. Some seventy miles southwest of Mexico City, Margarito Bautista founded Colonia Industrial in the town of Ozumba on a small parcel of land he and his sister inherited. There he gathered converts to the gospel who agreed to live the United Order and plural marriage. Bautista met Nathaniel Baldwin and Lorin Woolley in the 1920s and contacted the Priesthood Council in the 1940s. Joseph Musser called him as a member of the Priesthood Council in 1951. Bautista died in 1971. By the 1980s, the community had grown to a few hundred members and was prospering both economically and spiritually. They accounted this progress to being allowed to construct a temple in their community. At the same time, residents paved their streets, built a sewer system, installed indoor plumbing in most of the homes and beautified their village. Most of the materials for the temple were manufactured in the colony by volunteer labor, and the temple was built under the direction of Priesthood Council. One of the temple's unique features is its Mexican onyx windows that have natural designs that light up at night. The temple was dedicated in 1985.
Download


Copyright Disclaimer:
This site does not store any files on its server. We only index and link to content provided by other sites. Please contact the content providers to delete copyright contents if any and email us, we'll remove relevant links or contents immediately.