A Radical Faith by Eileen Markey
Author:Eileen Markey , Date: November 13, 2016 ,Views: 590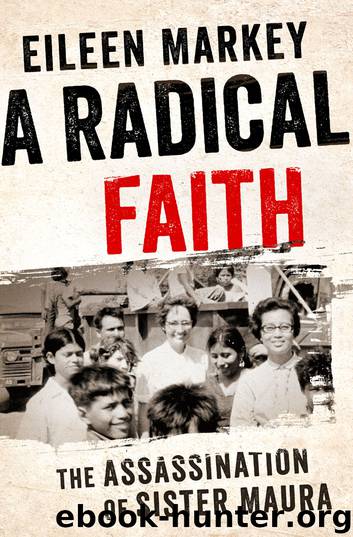 Author:Eileen Markey
Language: eng
Format: epub
ISBN: 9781568585741
Publisher: Nation Books
Published: 2016-09-19T16:00:00+00:00



CHAPTER 8
Mission to the United States
Maura woke in her dusty room on October 22, 1976, the cries of the neighborhood roosters and the rattletrap buses already noisy on the street a few feet from her window. A meeting with the youth group was planned for the evening. She and the other Maryknoll sisters had spent much of the past several months in an activist campaign, organizing meetings, helping speakers articulate their points, sharing ideas on how to encourage participants to speak their mind and how to avoid having one voice dominate a discussion, making banners, planning rallies, and marching in the streets. Maura placed her feet on the wooden floor. Between her toes she could feel the grit blown in during the night. She said her morning prayers as she dressed. It was her last day in OPEN 3.1
After seventeen years in Nicaragua and almost four in the barrio, she had a new assignment. Sisters were required to come home and work temporarily for the congregation after many years in the field. Maura would spend the next three years in the United States, talking to American Catholics about the church's teachings on social justice and about life in the third world. The Maryknollers called the work reverse mission. Instead of being missionaries in a poor country, preaching Catholicism and working to alleviate poverty, sisters and priests on reverse mission came back to the first world as missionaries to educate middle-class Americans about poverty and its causes, in an attempt to influence US foreign policy. In this new assignment in the United States, Maura would take what she saw and experienced in Siuna and OPEN 3 to church halls and college classrooms, seminaries and high schools. She was more worried now than she had been as a young nun boarding a plane for unknown Siuna. She'd been away a long time, living in Nicaraguan slums, praying and working with peasants and squatters for longer than she'd ever worked in the United States. Now it was the American suburbs that seemed foreign.2
She spent this last day walking the streets of OPEN 3, making teary farewell visits to as many friends as possible. At María Luisa Urbina's house, next door to her own, she put her arms around her old friend as the woman cried. When she began training the women in the neighborhood as instructors for religious education, Maura had compared them to Jesus's first recruits. He hadn't chosen powerful and influential people; he had picked fisherman. But humble people could do tremendous things, she had told María Luisa. In turn, María Luisa had prepared dozens of children for First Communion, telling them God created the world for everyone to share. María Luisa's welcome and acceptance of her had helped Maura accept herself. Now she was leaving, uncertain she would see her friend again. Miriam Castillo cried as Maura approached her house. Maura had made her feel that she mattered and encouraged her to speak up, to court her own counsel in the church reflection and study groups the nuns ran.
Download


Copyright Disclaimer:
This site does not store any files on its server. We only index and link to content provided by other sites. Please contact the content providers to delete copyright contents if any and email us, we'll remove relevant links or contents immediately.