Whispers and Shadows by Jerry Apps
Author:Jerry Apps , Date: August 2, 2020 ,Views: 289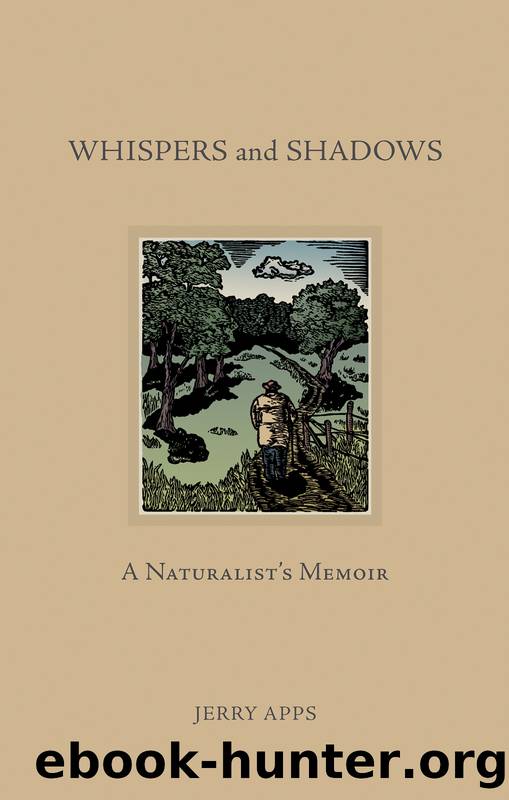 Author:Jerry Apps
Language: eng
Format: epub
Publisher: Wisconsin Historical Society Press
Published: 2015-08-14T16:00:00+00:00



Pond Magic
While men believe in the infinite some ponds will be thought to be bottomless.
HENRY DAVID THOREAU
We are lucky to have two ponds at Roshara, one entirely within our property boundaries and the second shared with a neighbor. They are kettle ponds, formed when the last glacier retreated and left behind huge blocks of ice that melted into small bodies of water. These ponds have no outlet or inlet. They don't have names, either; we merely refer to them as Pond I and Pond II. But they are part of a series of kettle ponds, starting with Chain O' Lake to the north of us and ending with Wagner's Lake a mile to the south, and are likely connected underground.
Our ponds actually are water table lakes, rising and falling with the region's water table. In the forty years we have owned Roshara, we have seen the ponds dramatically rise and fall twice. Pond I reached an all-time low in 2012, perhaps on average only three feet deep, but it has risen a bit since then. Still, it has a long way to go to return to the glory years of the 1980s, when it was filled to the brim and running over, forming a quarter-acre island on the west side and more than twenty feet deep in places.
Water use is a growing controversy here in Waushara County, especially use by farmers who install irrigation equipment and draw water from the aquifer. Critics of this growing practice point to nearby lakes that have completely dried up and streams that now flow only for brief periods.
The Coombes family, who worked this land before us, used Pond I as a source of water for their cows and hogs during times when water from the well was scarce or when there wasn't enough wind to power their well pump. Today the two ponds are sources of water and feed for untold numbers of birds and wild animals. They also provide nesting sites for sandhill cranes, Canada geese, and several species of ducks. Especially during the hot, dry days of high summer, the ponds provide a haven for wild creatures, from turkeys and deer to raccoons and songbirds.
For me the ponds are a source of untold enjoyment in all seasons. I often go to them simply to sit and listen and watch the goings-on of all the critters that live or visit there. In the spring of the year when the ice has just melted and the frogs are coming out of hibernation, I go to the pond in the early evening to listen to the spring peepers. These little frogs make a high-pitched peep similar to that of a young chicken, but much louder. I have been at the pond with Ruth when the peepers were so loud we couldn't hear each other talk. It's a mystery to me how these little frogs, also called chorus frogs, are able to sing so well together. I wonder which one is in charge of leading the chorus of celebratory spring singing.
Download


Copyright Disclaimer:
This site does not store any files on its server. We only index and link to content provided by other sites. Please contact the content providers to delete copyright contents if any and email us, we'll remove relevant links or contents immediately.