Wedding Photography from the Heart by Joe Buissink
Author:Joe Buissink [Buissink, Joe] , Date: November 23, 2020 ,Views: 21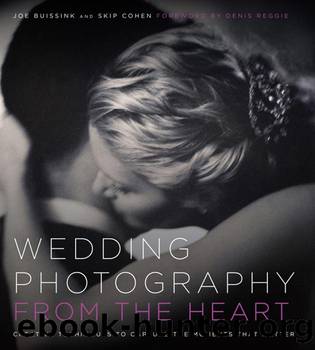 Author:Joe Buissink [Buissink, Joe]
Language: eng
Format: epub
ISBN: 978-0-8174-3586-8
Publisher: Potter/TenSpeed/Harmony
Published: 2011-04-18T16:00:00+00:00



The family dog always deserves his moment in the spotlight. This moment actually came during a formal group shot of the groom and groomsmen. Dogs often take direction very well, but this guy needed no direction—I couldn't have posed it better if I tried.
Canon 5D, 24–70mm F2.8 lens, f/6.3 at 1/125 sec.
Chapter 6
Looking Beyond Your Subjects:
Shadows and Light
Learn to look beyond your subjects—literally. Often the most powerful point in a photograph isn't the subject, but just beyond him or her, in the shadows. It's about learning to see and training your eyes to perceive texture and contrast. Too many photographers panic when faced with uneven light. But shadows and contrast in lighting are two of your best allies for creating truly amazing prints. Learn to understand every aspect of how your equipment performs and how your subject will look using lenses of different focal lengths. When working with low light, you need to use high ISO film, which is more sensitive and thus requires less light to expose your image. Film with this higher sensitivity therefore allows you a wider range of aperture and speed selection. Virtually everything I photograph is in "Program" mode. If you consistently and diligently practice with every lens you have at your disposal, you will develop enough experience and confidence to anticipate the result without needing to see it first. You can't develop confidence without constant rehearsal and experimentation.
We can't overstate how important it is to understand the basics of photography—lighting, composition, and exposure—before you can understand what it means to use Photoshop or other editing software on your images. Most of the tools and techniques in Photoshop were originally based on darkroom techniques, so this should be every photographer's universal rule: Always understand your equipment and the technical aspects of photography from the get-go. Remember, your clients are relying on you to translate their unforgettable day into an unforgettable wedding album, and you don't have the luxury of cleaning up your mistakes later; the right photograph needs to be created when you click the shutter, not your computer mouse. Experiment as much as you can to master the craft and become the very best artist you can be.
Download


Copyright Disclaimer:
This site does not store any files on its server. We only index and link to content provided by other sites. Please contact the content providers to delete copyright contents if any and email us, we'll remove relevant links or contents immediately.