Trading with the Enemy by Philip Leigh
Author:Philip Leigh , Date: November 23, 2014 ,Views: 231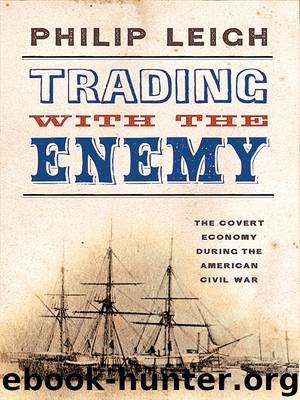 Author:Philip Leigh
Language: eng
Format: epub
ISBN: 9781594165764
Publisher: Westholme Publishing



In Chesapeake Bay, vessels cleared from New York, Philadelphia, and Baltimore for Washington, DC, would simply stop on the way to discharge cargo in Tidewater Virginia. Other cargoes shipped to Norfolk were transshipped via canals to North Carolina's Albemarle Sound. From there they could be taken up rivers into Virginia to supply Lee's army.17
As Lee was preparing for the invasion of Pennsylvania, Confederate War Department clerk Jones wrote in his famous diary on June 8, 1863, "the arrival and departure of steamers amount to one per day and most of the imported goods are of Yankee manufacture." Most of the illicit trade originated in New York. Although US customs procedures involving certificates of clearance and monetary bonds were established in an attempt to ensure that contraband cargoes did not end up in the Confederacy, bribery was commonly employed to defraud the paperwork requirements.18
Secretary Chase had granted customs officers the authority to force shippers in the United States carrying freight to Nassau or Bermuda to post a bond equal to the value of the cargo. The bond was to be forfeited if it was discovered that the cargoes were intended for blockade-runners. But the plan fell victim to loopholes and bribery. For some reason, Baltimore and Philadelphia discontinued the bond requirements shortly after New York became more insistent on them. Furthermore, New York shippers often claimed to be British citizens, although they may only have been conduits paid a bribe to fraudulently conceal the true American cargo or ship owner. US-flagged ships changed registry, not only to avoid vulnerability to Confederate commerce raiders such as the CSS Alabama but to sidestep the bond requirements for cargoes carried in American hulls.
One way for shippers to cut through the red tape was to "buy back" the bond from a dishonest customs agent. The Henry B. Stanton family was a good example. Stanton was a noted abolitionist, and his wife, Elizabeth, was a leading feminist. Henry and his son, Neil, secured lucrative sinecures as customs agents. The younger Stanton readily admitted that he would sell bonds back to shippers. In one case he enabled a shipper to avoid liability for a $64,000 bond by selling it back to him for $600. Thus the shipper could send the cargo to a Confederate agent in Nassau or Bermuda without concern that his bond might be forfeited. Secretary Chase launched an investigation of the Stantons in October 1863, and Henry resigned a couple of months later. It was a significant setback that would lead to Chase's downfall the following summer as he battled Seward and Thurlow Weed for the privilege to assign patronage jobs in New York customs, where the majority of duties were collected.19
Perhaps most stunning of all were the Northern shippers who exported merchandise directly into Southern ports. It was easy enough to enter Union-occupied ports such as New Orleans and Beaufort, South Carolina, but some Yankee shippers would run the blockade of Rebel harbors without even attempting to use the middlemen available in Nassau, Bermuda, Havana, or Halifax.
Download


Copyright Disclaimer:
This site does not store any files on its server. We only index and link to content provided by other sites. Please contact the content providers to delete copyright contents if any and email us, we'll remove relevant links or contents immediately.