Thomas Jefferson's Education by Alan Taylor
Author:Alan Taylor , Date: December 17, 2019 ,Views: 379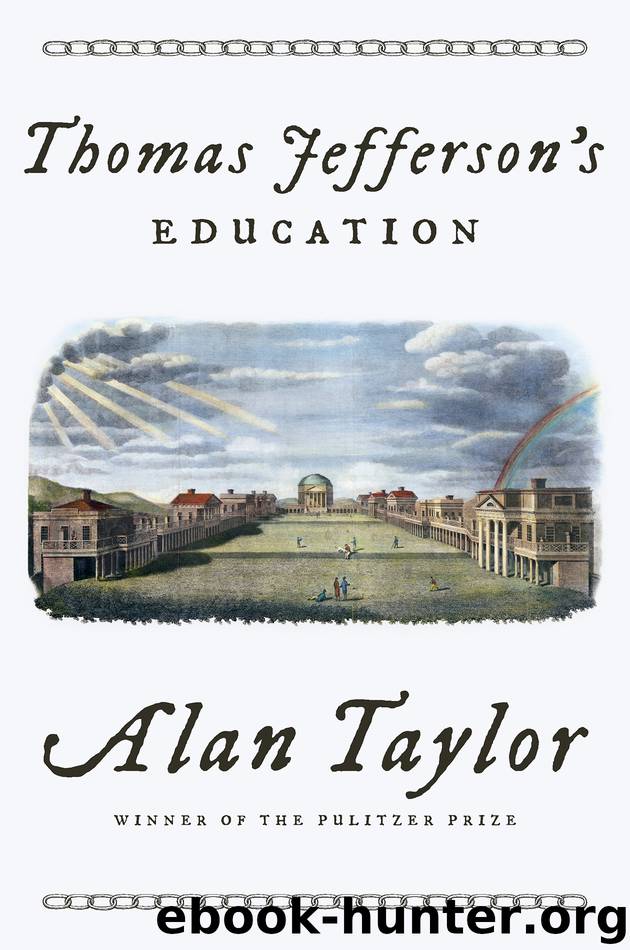 Author:Alan Taylor
Language: eng
Format: epub
Publisher: W. W. Norton & Company
Published: 2019-09-10T16:00:00+00:00



9
STUDENTS
Virginia Randolph Cary (1786–1852), by Charles C. Ingham (Virginia Museum of History & Culture)
WILSON MILES CARY grew up entangled in Jeffersons and Randolphs. His great-grandfather was Thomas Jefferson's college classmate and best friend, Dabney Carr, who married Jefferson's sister Martha. Their daughter, Jean Barbara Carr, married Colonel Wilson Miles Cary, the leading magistrate, planter, and slavemaster in Elizabeth City County. The colonel's children included Wilson Jefferson Cary, who married Virginia Randolph, who was the sister of Thomas Mann Randolph, Jr., and so, the sister-in-law of Martha Jefferson Randolph, daughter of Thomas Jefferson. After her father died in 1793, Virginia lived with her brother and Martha at Edgehill Plantation until marrying Wilson J. Cary a dozen years later at nearby Monticello. Virginia recalled the Jefferson-Randolphs as "the protectors of my orphan childhood."1
Wilson J. Cary owned Carysbrook, a large plantation in Fluvanna County, but it came encumbered with debts. A reluctant politician, he sought and won a seat in the House of Delegates in 1821 to satisfy his insistent great-uncle, Thomas Jefferson, who needed a reliable vote from Fluvanna County for funding the University. Attending the winter session of the legislature in Richmond, Cary marveled at the performances of a French acrobat named Godeau, for whom the crowd waited as he rolled a wheel-barrow along a tightrope 150 feet long and 40 feet above the ground. The cat inside the wheelbarrow was not Godeau's first choice. "It is said here," Cary reported, that "he has beaten his wife severely because she would not consent to be rolled by him, up & down the rope in the wheel barrow."2
Cary longed to go home: "How gladly would I give up such frivolous gaieties for a quiet evening with my family by our own fireside." Idealizing family as a haven of love in a troublesome world, he assured Virginia, "Experience has long satisfied me, my dear Wife, that we have not much else to look to, besides ourselves and children, in this World of selfishness." Cary hoped that their children would become "an abundant fountain of Happiness & comfort in our old age," but that expected a great deal from their son, Wilson Miles Cary.3
Managing his plantation poorly, Wilson J. Cary fell deeper in debt during the long, hard depression that gripped the state after 1819. He began selling off slaves but assured his wife and children that they would weather the crisis "without a sacrifice of any other than some of those whom we can spare with little inconvenience." He ignored the plight, far worse than inconvenience, suffered by enslaved families ruptured by his sales. Cary tended to keep working men, selling away their wives and children. When an enslaved man begged Cary to reunite his scattered family, Cary took offense. He wrote to Virginia, "I really was astonished at Julius's impudent attempt to fasten his wife & children upon us. . . . I wish you to cause her to be removed without delay as I have no idea of supporting other people's negroes, when our own family is so large.
Download


Copyright Disclaimer:
This site does not store any files on its server. We only index and link to content provided by other sites. Please contact the content providers to delete copyright contents if any and email us, we'll remove relevant links or contents immediately.