The Pelican by Martin Michael Driessen
Author:Martin Michael Driessen [Driessen, Martin Michael] , Date: August 6, 2020 ,Views: 232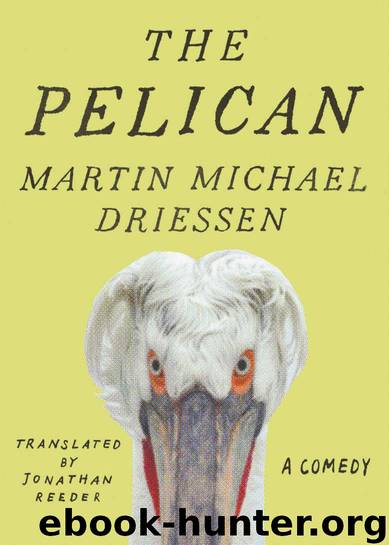 Author:Martin Michael Driessen [Driessen, Martin Michael]
Language: eng
Format: epub
ISBN: 9781542044875
Published: 2019-11-12T00:00:00+00:00



Josip's recent visit to Zagreb had not gone as he had hoped. Jana was out of sorts. Her bed was not decked, as usual, in red satin linens; in fact, it looked as if it hadn't been made up in weeks. Jana was also without makeup, her face swollen and pale. He sat on the sofa next to an old woman, or at least with one who suddenly did not look twenty years younger than him. But Josip was a decent fellow and did not want to give her the impression that he was only there for the sex. They were soul mates, after all, but even then, a man did not gladly sit for two hundred kilometers on a bus only to find something no better than what he already had at home.
Forgive me, Josip, she had said, I'm just not in the mood.
Of course Josip forgave her, and he got up to mix a drink. It came out soon enough: she had money problems. They threatened to evict her, she said, because she was in arrears with the rent. And this was because her best friend Yelena had borrowed money from her and then skipped town with a Bosnian ne'er-do-well; she should have known better, because Yelena was a Taurus with a dreadfully discordant Jupiter … but it was too late now. And on top of it, she had lost her job at the nail salon. To cut to the chase: she was in dire straits. Josip sympathized and comforted her. In bed she made a halfhearted attempt to please him, but Josip's mind was elsewhere, as he was trying to come up with a solution.
Sometimes a man needs a certain distance in order to figure things out. Josip got this chance when the bus got stuck underneath the roof of a gas station halfway home. The delay set them back more than an hour, giving him plenty of time to think.
To start with, he could temporarily demand more money from Andrej. As a full-time employee, he had more to lose if his secret ever became public. The extra cash could go to help Jana.
They let the air out of the tires to lower the bus, and when it had been freed and they were able to continue their journey toward the coast, it suddenly hit him.
Schmitz. Of course. It was Schmitz.
Only Schmitz was cultivated and cunning enough to think it all up—and he was a photographer to boot. And what about that dirty taunting of his, with that cooked-up story about the Jews and the funicular? Everything pointed to Schmitz believing he had some sort of power over Josip, and enjoying it, too. The man was a racist; he was a bad egg through and through. Everyone knew that his photo shop hardly broke even, and that he had practically no pension. His gimpy leg did not offer the least alibi, because he had one of those little cars in which he could very well have driven to the Zrinskog and even to Rijeka.
Download


Copyright Disclaimer:
This site does not store any files on its server. We only index and link to content provided by other sites. Please contact the content providers to delete copyright contents if any and email us, we'll remove relevant links or contents immediately.