The Man Who Would Not Be Washington by Jonathan Horn
Author:Jonathan Horn , Date: July 28, 2015 ,Views: 323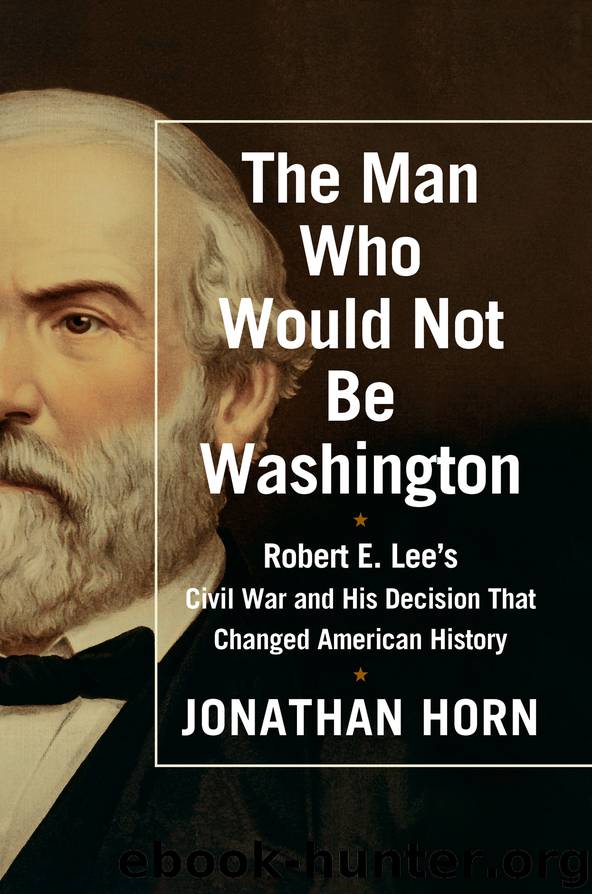 Author:Jonathan Horn
Language: eng
Format: epub
Publisher: Scribner
Published: 2015-07-17T16:00:00+00:00



PART IV
Postbellum
CHAPTER THIRTEEN
Washington and Lee
With a sword at his side, Robert E. Lee rode to Richmond. On the afternoon of April 15, crowds cheered his arrival. Even the Union soldiers occupying the blocks of charred chimneys and blackened walls saluted. The fires that had consumed the Confederate capital after the evacuation from Petersburg had approached the house his wife rented, but Mary Custis Lee had remained defiant. Lee found her seated in the same chair where she had knit while Richmond had burned. Abraham Lincoln had entered the city shortly after the flight of Jefferson Davis and the Confederate government. "I wish you could have witnessed Lincoln's triumphal entry into Richmond. He was surrounded by a crowd of blacks whooping & cheering like so many demons," Mary wrote. Lincoln had gone forever by the time her husband returned, and so had his words about "malice toward none" and "charity for all." The bullet puncturing the president's head the previous night had, by that morning, deprived the country of his generous spirit. Lee publicly condemned the assassination, which he expected Northerners to blame on the South. Brooding alone except when seeing visitors his relatives could not turn away and when stepping outside at dark, Lee wrote Davis a letter calling further bloodshed "useless." In response came news of Joseph Johnston's surrender and Davis's capture. The American Civil War was over. A little girl who knew no better asked Lee why he looked sad. "Why shouldn't I?" he said. "My cause is dead! I am homeless—I have nothing on earth."
How easy it would have been to follow the currents that had whisked his father to sea. Foreign shores called, and some Confederates answered. But they went against Lee's urging. The South, he told a newspaperman shortly after Appomattox, needed her sons to stay. That the new American president, Andrew Johnson, excluded Lee and other high-ranking officers from the general amnesty granted to other Confederates did not change his opinion. Nor did a grand jury's decision to indict him for treason, an action that, in his view, violated the assurances given at Appomattox. "Altho' the prospects may not now be cheering," he wrote, "I have entertained the opinion that unless prevented by circumstances or necessity, it would be better for them [former Confederates] and their country, to remain at their homes and share the fate of their respective States." When America had conquered Mexico, Lee had said that victors "are entitled to dictate the terms of peace." Being on the losing side now did not alter that conviction.
At Appomattox, Ulysses S. Grant had asked Lee to use his influence to urge Southerners outside the Army of Northern Virginia to accept defeat. "There was not a man in the Confederacy whose influence with the soldiery and the whole people was as great as his," Grant claimed. Lee's only hesitation then had been a soldier's reluctance to usurp political power from elected leaders like Davis. With that no longer an issue, Lee resolved to provide a model of obedience.
Download


Copyright Disclaimer:
This site does not store any files on its server. We only index and link to content provided by other sites. Please contact the content providers to delete copyright contents if any and email us, we'll remove relevant links or contents immediately.