The Man Who Saved the Union by H.W. Brands
Author:H.W. Brands [Brands, H. W.] , Date: August 20, 2014 ,Views: 262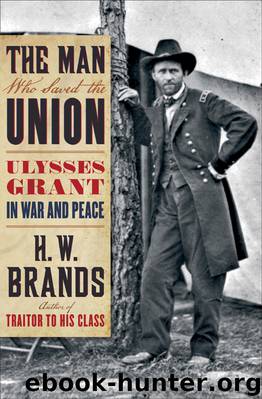 Author:H.W. Brands [Brands, H. W.]
Language: eng
Format: epub
ISBN: 978-0-385-53242-6
Publisher: Knopf Doubleday Publishing Group
Published: 2012-10-01T16:00:00+00:00



On March 29 Grant began moving. The rain had stopped and roads begun to dry. But the army was scarcely in motion when the skies opened again. "The heavy rains and horrid roads have prevented the execution of my designs, or attempting them," Grant wrote Lincoln on the 31st. To Julia he was more philosophical: "The weather is bad for us but it is consoling to know that it rains on the enemy as well."
Grant directed his men to lay corduroy roads, and the march resumed. His goal was to reach Five Forks, on Lee's extreme right. Sheridan would attack Lee there, forcing the Confederate commander to pull troops from the center of his line or risk letting Sheridan get behind him. Grant would then hit the weakened center and carry Petersburg and perhaps Richmond.
Grant's aide Horace Porter was riding with Sheridan, and he reported to Grant how the general and his men wanted a showdown and likely would carry it off. "General Sheridan will attack the enemy with everything," Porter wrote. "Our men have never fought better. All are in excellent spirits and anxious to go in. The enemy is said to be fighting badly, giving way constantly before our dismounted cavalry."
Sheridan took Five Forks and much besides. His infantry hit the Confederate flank while his cavalry charged the front. "The result of this combined movement was the complete rout of the enemy, with the loss of five pieces of artillery and caissons, a number of their wagons and ambulances, and I think at least 5,000 prisoners and several battle flags," Sheridan wrote Grant. "After the enemy broke, our cavalry pursued them for six miles down the White Oak road."
Grant immediately ordered attacks on the center of the Petersburg line. His corps commanders answered that it was getting dark and the men couldn't see to attack; Grant accepted the argument and settled for artillery barrages overnight. Yet by five o'clock on the morning of April 2 his troops were in motion, and they quickly drove the rebels back upon the inner defenses of Petersburg. Lee counterattacked and hard fighting followed. But the weight of the Federals gradually told. "We are now up and have a continuous line of troops, and in a few hours will be entrenched from the Appomattox below Petersburg to the river above," Grant reported to the War Department and Lincoln that afternoon. "The whole captures since the army started out gunning will not amount to less than 12,000 men and 50 pieces of artillery." The surrender of Richmond was a matter of time and probably not much at that. "I think the President might come out and pay us a visit tomorrow."
Download


Copyright Disclaimer:
This site does not store any files on its server. We only index and link to content provided by other sites. Please contact the content providers to delete copyright contents if any and email us, we'll remove relevant links or contents immediately.