The Legends Club by John Feinstein
Author:John Feinstein , Date: April 8, 2016 ,Views: 331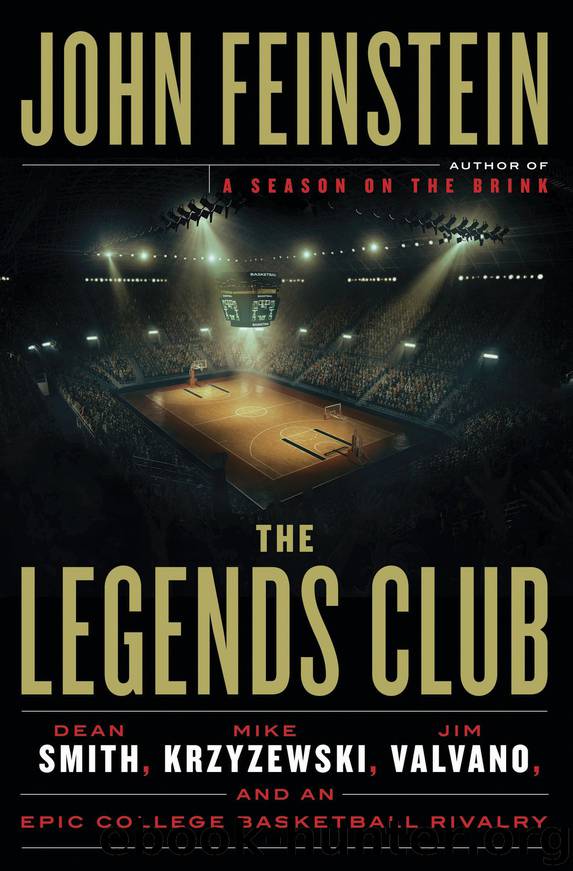 Author:John Feinstein
Language: eng
Format: epub
Publisher: Knopf Doubleday Publishing Group
Published: 2016-02-29T16:00:00+00:00



21
The Mississippi Valley State game had proven to be the toughest test Duke faced in the East Regionals. Johnny Dawkins had taken over the game in the final eight minutes and Duke had hung on for an 85–78 win. The Blue Devils beat Old Dominion easily and advanced to the Sweet 16 in the Meadowlands. There, they eased past twelfth-seeded DePaul in the regional semis, setting up an Elite Eight matchup with Navy.
"Navy," Krzyzewski said, laughing when the subject came up. "I'm a believer in the basketball gods and I think they have a sense of humor, but this one didn't seem funny to me at the time. I mean, here I am one game from the Final Four for the first time in my coaching career and we're playing Navy? I remember lying awake in bed the night before the game and thinking, 'If I lose to Navy to go to the Final Four I will never, ever live it down. I'll never be invited to an Army alumni function for the rest of my life."
Krzyzewski's fear of losing to the Midshipmen was understandable. They were led by David Robinson, who had been recruited by Navy as a gawky, six-foot-seven-inch engineering wonk. When Navy coach Paul Evans visited his house, Robinson had no interest in talking about basketball or how he might fit in with the basketball team at the academy.
"All he wanted to do was show me the TV set he'd built," Evans said. "Then he explained how he had built it. I promise you I've never had a home visit quite like that one."
Robinson might have been interested in going to George Mason, which in Fairfax, Virginia, was right down the street from his home. The Patriots had a better basketball program than Navy at the time.
"We never recruited him," said Jack Kvancz, who was Mason's athletic director at the time. "We didn't think he'd be good enough to play for us."
Robinson eventually decided to go to Navy because his dad was a retired naval officer and he was interested in engineering. Evans was glad to have him because at six-seven he would be one of his tallest players and he thought he had potential because he could run the floor and was clearly smart enough to learn the game.
Robinson averaged 7.6 points per game coming off the bench as a freshman. That summer, he grew six inches—but lost none of his athletic skill. He became a star as a sophomore, leading Navy to a first-round upset of LSU in the NCAA Tournament. Evans had recruited some solid players by then, notably point guard Doug Wojcik and Vernon Butler, a rugged six-foot-seven-inch forward who could shoot the ball from outside and mix it up inside.
At the end of Robinson's sophomore season, many civilian schools tried to recruit him. At all the military academies, any student can leave before the start of his or her junior year and not pay any financial penalty for the two years of free education.
Download


Copyright Disclaimer:
This site does not store any files on its server. We only index and link to content provided by other sites. Please contact the content providers to delete copyright contents if any and email us, we'll remove relevant links or contents immediately.