The Finest Hours by Michael J. Tougias
Author:Michael J. Tougias , Date: October 10, 2015 ,Views: 716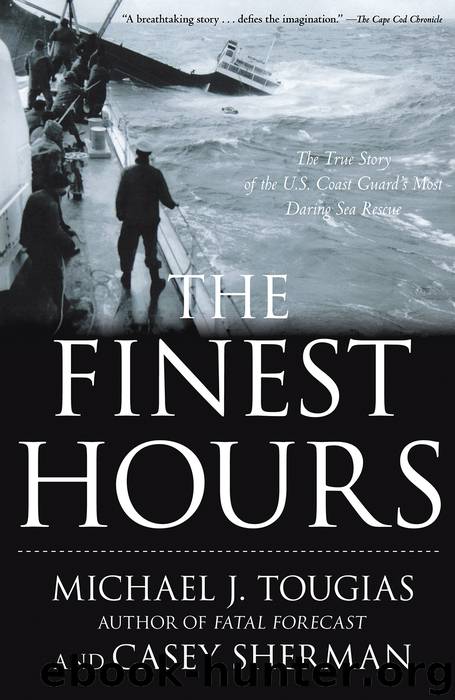 Author:Michael J. Tougias
Language: eng
Format: epub
Publisher: Scribner
Published: 2009-10-09T16:00:00+00:00



Bushy-browed WOCB newsman Ed Semprini had survived the grueling drive down snow-covered Route 28. The bad weather had not let up once during the twenty-one-mile trek from Hyannis to Chatham. When Semprini arrived at the Chatham Lifeboat Station he met up with his engineer, Wes Stidstone. Both men were wired for sound when the Pendleton survivors came dragging in. Semprini knew that he didn't have much time. He had to get the interviews done quickly so that they could drive back to the radio station in Yarmouth and broadcast live. He put his microphone in nearly every tired man's face as the survivors warmed up on coffee and doughnuts. "They didn't speak that well," Semprini recalls. "I think all the men I spoke with were from the South." The accents befuddled the veteran newsman, who was himself still learning to understand how Cape Codders spoke. "One survivor from Louisiana asked me if his family could hear him speaking live." Semprini explained to the seaman that the interviews would later be aired coast-to-coast on the Mutual News Network. To a man, every survivor Semprini interviewed that night could not say enough about Bernie Webber and his crew. "They called it a miracle," Semprini remembers with a smile.
Webber, meanwhile, had walked upstairs to his bunk at the Chatham Lifeboat Station, still shaken by the long hours spent riding the biggest waves in the worst storm of his life. He bent down and kicked off his overshoes. He then called Miriam. "I'm fine, and I'll be in touch with you tomorrow," he explained. A cup of mud and a doughnut wouldn't feel half bad right now, he thought to himself. Webber made his way down to the galley, where he was met by Fitzgerald, Livesey, and Maske. They all nodded toward one another. No one had to say a word. They would leave that to Bos'n Daniel Cluff, who offered words of congratulations and admitted that he didn't think he'd see any of them alive again. Ed Semprini had been searching for Bernie and finally spotted him coming out of the galley. Webber had been called the true hero of the rescue and the newsman understood why. Bernie answered a few questions as coherently as possible. He had finished his cup of coffee and devoured his Cushman's doughnut, but now all he wanted was sleep. He returned to his bunk and collapsed. Webber was safe now, but as he drifted off to sleep, he thought only about those still fighting the storm at sea.
Download


Copyright Disclaimer:
This site does not store any files on its server. We only index and link to content provided by other sites. Please contact the content providers to delete copyright contents if any and email us, we'll remove relevant links or contents immediately.