The Brewmaster's Table: Discovering the Pleasures of Real Beer With Real Food by Garrett Oliver
Author:Garrett Oliver , Date: July 17, 2020 ,Views: 255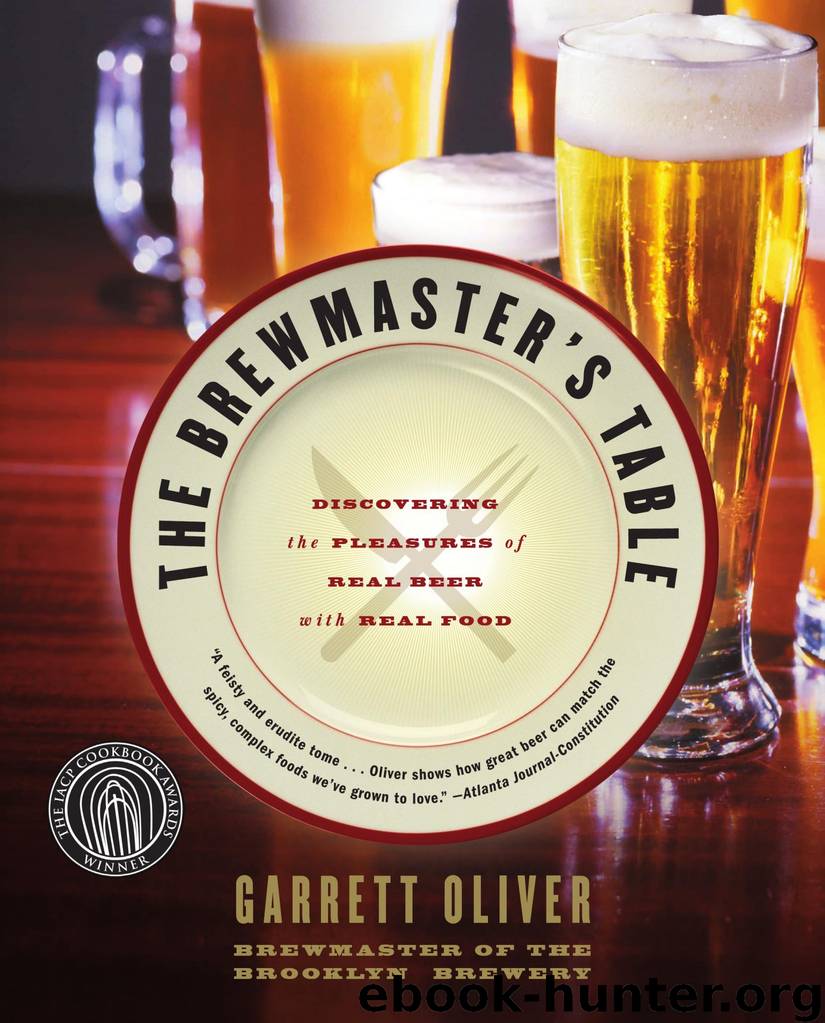 Author:Garrett Oliver
Language: eng
Format: epub
Tags: Cooking, Entertaining, Beverages, Alcoholic, Beer, Specific Ingredients, General
Publisher: Harper Collins
Published: 2010-10-19T05:39:02+00:00



OPPOSITE: Saison Dupont, brewed on a small farm in Hainaut, is a jewel in Belgium's brewing crown. It's refreshing, has remarkable depth of flavor, and goes with almost everything.
Forêt, known in Belgium as Moinette Bio, is made from organically grown hops and barley. It's very similar to the Vieille Provision, but doesn't have quite the same racy vibrancy and hop attack. I suspect that organic brewing ingredients still have a way to go. It's still an excellent beer, though—it simply suffers slightly by comparison. It's strong at 7.5 percent, but light-bodied and flinty, a fine accompaniment to seafood, especially monkfish, crab cakes, and mussels (with frites, of course).
The brewers at Dupont swear that their beers aren't spiced, but Belgian brewers tend to be evasive when asked too many questions. I'm suspicious. Besides, I can't think of any other way to explain the little brown flecks in the head and the deeply spicy aroma of Dupont's Moinette. Saison Dupont is strong but quaffable at 6.5 percent; Moinette's full gold color belies an 8.5 percent wallop. It has a powerful aroma of coriander, passion fruit, damp earth, dried orange peel, lemon curd, and peaches. The bitterness is brusque and sharp, providing a counterpoint to the Juicy Fruit malt sweetness residing at the center. Bitterness and acidity dry out the finish, and the fruit lingers. Another tour de force, perhaps not quite as refined as the Vieille Provision, but beautiful in its own right and big enough to take on any dish it pleases. Try it with salmon steaks, grilled sardines, spicy Thai snapper, coconut curries, gamy sausages, steaks, and barbecue.
Olivier Dedeycker is endlessly inventive, and the brewery experiments constantly. A few years ago, the Duponts found a label for a beer produced by the brewery before they owned it. This was a honey beer, and it inspired them to brew their own Bière de Miel, a beer with a large addition of aromatic honey to the kettle. The honeys change from time to time, but the versions of Bière de Miel that I've tasted all have the house character of black pepper and fruit, backed with a powerful perfumy aroma and flavor of beeswax and honey. The beers have been dry—honey is very fermentable—with an acidic twinge in the finish. This beer is particularly wonderful with wild game.
The strength of the Dupont beers tops out at 9.5 percent with their Christmas beer, Avec les Bons Voeux de la Brasserie Dupont. The name offers the brewery's best wishes, and the beer sets out to fulfill them, showing a full, deep orange color and an aroma of herbs, musty fruit compote, black pepper, hops, and sweet spices. The power is more obvious now on a round, sweetish palate just bursting with fruitiness. The finish is long and resinous. This beer is terrific by itself or with spicy foods, especially jerk chicken, lamb vindaloo, and Thai snapper with chili sauce. It's also great with cheese—try it with Parmigiano Reggiano or an aged Gouda or farmhouse cheddar.
Download


Copyright Disclaimer:
This site does not store any files on its server. We only index and link to content provided by other sites. Please contact the content providers to delete copyright contents if any and email us, we'll remove relevant links or contents immediately.