Starborn Odyssey_Voyage of the Lost by Haines Sigurdsson
Author:Haines Sigurdsson [Sigurdsson, Haines] , Date: June 23, 2022 ,Views: 20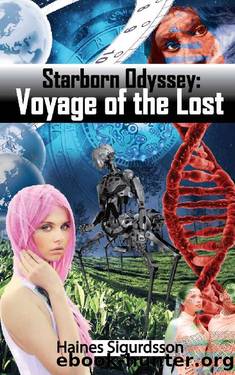 Author:Haines Sigurdsson [Sigurdsson, Haines]
Language: eng
Format: epub
Published: 2016-04-29T04:00:00+00:00



Home, Elusive Home
Thirty nine jumps later and they hadn't found even one suitable place to settle, nor had they received another message from the mini saucer. Less than half of the locations they reached even had a planet to land on, and they had to get their fuel supply from some pretty inhospitable places. Mostly chunks of rock in orbit around gas giants and once even a chunk of rock floating more the three billion miles from the nearest star, which happed to be a white dwarf.
Now they found themselves in the middle of an asteroid field, but there were four planets closer to the sun, which was a G-type star, and two of the planets were in the green zone. They headed toward the third planet because it was ninety five million miles from its star and had only one moon. The planet was huge, nearly fifteen thousand miles diameter with its moon in a somewhat elliptical orbit, in nearly the perfect position to prevent a lot of planet wobble, making stability just right for a carbon-based life form. They launched one-way probes toward the other three planets just in case. They'd never retrieve those unless they went and picked them up.
They were two weeks away from the third planet when Pixie began complaining of abdominal pain. Tanya took Pixie back to her bunk to run some scans. When Shana heard Pixie's wail of sorrow, she knew what it meant. She rushed to her friend, followed by Zak, who looked pale.
Tanya looked miserable, standing next to Pixie, who was curled in a ball and sobbing pitifully.
"The baby?" Shana asked, stupidly.
Tanya shook her head. "He's dead."
There was a lump in Shana's throat that almost made it impossible to talk. "Was it the jumps?"
"I don't know. Gemma doesn't know either. She may have had difficulty even under normal conditions; or it may have been the Untran bacteria; or the jumps. There's no way to tell."
Zak had curled himself over Pixie as if protecting her from some sort of onslaught, as if the ceiling might fall. It was more than Shana could take. "What can I do?" she asked Tanya, who shook her head again.
"Please get Zak out of here. I need to take care of Pixie." At this, Pixie wailed harder. Tanya gave Shana a long look, then leaned forward and gave Pixie a shot in the arm. Almost instantly, she calmed down. Tanya turned seamlessly and injected Zak as well. He too relaxed.
"C'mon, Zak," Shana muttered, "let Tanya do what she can." Zak allowed himself to be pulled back to the control room, while Tanya took care of the unpleasant task of removing the lifeless fetus; she knocked Pixie out first, and then kept her sedated for a couple of days, as every time she awoke she seemed unable to do anything but cry.
Zak did the best he could under the circumstances, by letting Pixie know that the timing had been off and they'd be able to have a child as soon as they had a new home.
Download


Copyright Disclaimer:
This site does not store any files on its server. We only index and link to content provided by other sites. Please contact the content providers to delete copyright contents if any and email us, we'll remove relevant links or contents immediately.