Ravenor 1 - Ravenor by Warhammer
Author:Warhammer [Warhammer] , Date: May 27, 2020 ,Views: 35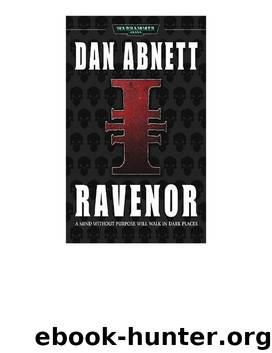 Author:Warhammer [Warhammer]
Language: eng
Format: epub
Published: 0101-01-01T00:00:00+00:00



The cabin, badly lit and untidy, was pretty much the only place in the Imperium Harlon Nayl
thought of as home. In a long, bruising life extended by juvenat treatments — Nayl was just over a
hundred, standard, but looked a robust late-thirties — he had known a number of homes. Loki —
cold, hard, unforgiving Loki — was his birthworld, but he'd outstayed his welcome there pretty
much the same day he decided to follow his brothers into the bounty-hunting business. Loki hadn't
96
been home for a long time now. He'd wandered for some years, not so much in pursuit of work but
because pursuit was his work. Then he'd crossed paths with an inquisitor called Eisenhorn.
As part of Eisenhorn's band, he'd had residence in a number of places, and remembered most
fondly the Ocean House of Thracian Primaris and Eisenhorn's estate, Spaeton House, on Gudrun.
Both of those were memories now, just as Eisenhorn himself was. No one had seen the inquisitor
since the affair on Ghul back in the eighties. Nayl often wondered if Eisenhorn was dead. So many
of them were from that time… Fischig, Aemos, Tobias Maxilla, Eleena Koi. That's what this life
did: it killed you, sooner or later. Serve the ordos of the Holy Inquisition, and eventually that duty
got you dead.
Nayl pressed the hatch-stud and closed the door behind him. He moved through the gloom, and
snapped on a few glow-globes. A status monitor by the door showed a pulsing red light. They were
warp-bound now. He'd felt the shudder.
His cabin was quite small and situated on the end of a corridor. The shipmistress had bequeathed
an entire deck to Ravenor and his entourage as their own private, sovereign state. The Hinterlight's
crew never came here, except by invitation. It was even off-limits to the cleaning servitors, which
probably explained why his room smelled of socks.
To his left, in an alcove, an unmade bunk, surrounded by scattered clothes, data-slates and
books. Various pict-shots decorated the wall over the cot like a shrine. Most of them were faded, the
emulsion peeling. In the main part of the room stood a small table and three chairs, a codifier
terminal linked to the vessel's data system, and a row of recessed cupboards built in between the
bulkheads. To his right was the sliding door into the head and the upright washroom.
Nayl dropped his kitbag on the floor, where it became one of many. The main area was littered
with equipment packs, rolled-up body gloves, boots, pieces of armour, tools, and various weapons
that he really should have returned to the arsenal. One of these days he was going to get up in the
night for a piss and tread on a loaded hand-cannon. Then he'd have to do some frigging explaining.
And, most likely, go hunting for some missing toes.
Nayl wandered across to the bulkhead cupboards. He was limping. He ached. The free-for-all in
the Carnivora had been less than fun. Reaching out to the cupboard latch, he noticed how skinned
and raw his knuckles were. Grime-black, caked in dried blood, the calloused skin torn. He needed a
shower. The effort didn't appeal to him.
Download


Copyright Disclaimer:
This site does not store any files on its server. We only index and link to content provided by other sites. Please contact the content providers to delete copyright contents if any and email us, we'll remove relevant links or contents immediately.