Rant by Palahniuk Chuck
Author:Palahniuk, Chuck [Chuck, Palahniuk,] , Date: March 26, 2014 ,Views: 173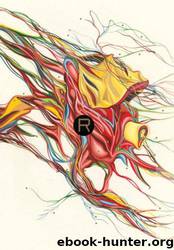 Author:Palahniuk, Chuck [Chuck, Palahniuk,]
Format: epub, mobi
ISBN: 0307275833
Publisher: Random House
Published: 2010-06-04T04:00:00+00:00



Rant
20–Junkyards
From the Field Notes of Green Taylor Simms ( Historian): For sheer spectacle, the peak of Party Crash culture had to be Tree Nights. The idea, as always, was to choose a flag that the unaware public could dismiss as ordinary, normal—or, at worst, an accident.
Among the accident type of flags were coffee cups and sack lunches. Crash teams utilized these flags on Ooops Nights: For example, during an Ooops "Coffee" game, participants indicated they were in the game by bolting or gluing a large travel mug to the roof of their vehicle. The actual coffee was optional. In the event of an Ooops "Brown Bag" game, teams glued a brown-bag "lunch" to their roof. To the general public, these flags occurred as silly accidents, and unaware drivers might pull alongside laughing and pointing, attempting to get the driver's attention and help resolve the misplaced item.
The "Baby on Board" events used another type of mishap flag. Understandably, public reaction was somewhat less jolly at the sight of a speeding car weaving through traffic with an infant carrier and baby seemingly forgotten on the roof.
Shot Dunyun ( Party Crasher): The auctioneer starts the bidding at fifty dollars, saying, "Do I hear fifty? Who wants to give me an opening bid of fifty dollars for Lot Number One?"
This is Sammy's Towing, so this must be Tuesday night. The Wednesday police impound auction is at Radio Retrieval. How organized is this? On Fridays, we'd be at Patrol Towing to preview the cars. Police crime impounds. Abandoned cars. Cars seized in drug busts or for unpaid parking tickets. Cars towed out of pay lots and never claimed, they all go for chump change to the highest bidder.
To find a car you can drive for a few days, paint and glue shit all over, and ram into another junker car, here's your market. Marked with neon-bright grease pencil, yellow or orange, in the windows of some cars you can read "Brken Tming Blt." Or "Eng Mnts crakd." In one big four-door, still messy with "Just Married" toothpaste and hanging tin cans, Auction Lot 42, written on the windshield it says, "Cam lobs scord."
The car up for bid right now, dented and crumpled, you'll find dried blood and hair still caked on the dashboard.
From the Field Notes of Green Taylor Simms: The infant doll and the carrier were, of course, bolted in place. Most teams used the same drilled hole and carriage bolts each week, switching the baby carrier for the coffee mug for the bag lunch. Other teams, as their vehicle accumulated dents and scratches, becoming less attractive as a target, these teams would expand on the basic theme. Instead of a coffee mug, they might bolt an espresso machine and a tray of demitasse cups and saucers to their roof. A basket of pain au chocolat. A silver bud vase with a single red rose trembling in the slipstream.
Shot Dunyun: The auctioneer's chanting, "Seventy-five, seventy-five, who'll give me eighty? Who'll bid eighty dollars? Do I hear eighty dollars…?"
Rant and Echo are still poking around the lot, looking under hoods.
Download


Copyright Disclaimer:
This site does not store any files on its server. We only index and link to content provided by other sites. Please contact the content providers to delete copyright contents if any and email us, we'll remove relevant links or contents immediately.