New Space Opera by Gardner Dozois & Jonathan Strahan
Author:Gardner Dozois & Jonathan Strahan [Dozois, Gardner & Strahan, Jonathan] , Date: May 7, 2021 ,Views: 93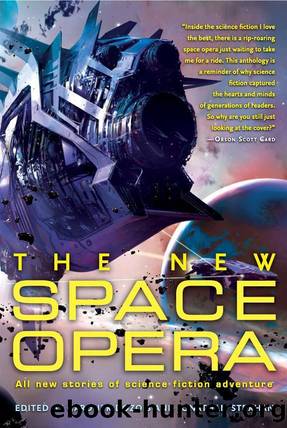 Author:Gardner Dozois & Jonathan Strahan [Dozois, Gardner & Strahan, Jonathan]
Language: eng
Format: epub
Tags: Science Fiction
ISBN: 9780060846756
Google: GHGFW90PMZ8C
Publisher: Harper Collins
Published: 2007-06-01T04:00:00+00:00



SPLINTERS OF GLASS
MARY ROSENBLUM
H
ere's a tense and fast-paced adventure that takes us to Europa for a deadly game of cat and mouse beneath its frozen surface, a game where a second's indecision or a moment of carelessness can make the difference between life and an especially horrible death…
One of the most popular and prolific of the new writers of the nineties, Mary Rosenblum made her first sale, to Asimov's Science Fiction, in 1990, and has since become a mainstay of that magazine, and one of its most frequent contributors, with almost thirty sales there to her credit. She has also sold to The Magazine of Fantasy and Science Fiction, Science Fiction Age, Pulphouse, New Legends, and elsewhere.
Rosenblum produced some of the most colorful, exciting, and emotionally powerful stories of the nineties, earning her a large and devoted following of readers. Her linked series of "Drylands" stories have proved to be one of Asimov's most popular series, but she has also published memorable stories such as "The Stone Garden," "Synthesis," "Flight," "California Dreamer," "Casting at Pegasus," "Entrada," "Rat," "The Centaur Garden," "Skin Deep," "Songs the Sirens Sing," and many, many others. Her novella "Gas Fish" won the Asimov's Readers Award Poll in 1996, and was a finalist for that year's Nebula Award. Her first novel, The Drylands, appeared in 1993 to wide critical acclaim, winning the prestigious Compton Crook Award for Best First Novel of the year; it was followed in short order by her second novel, Chimera, and her third, The Stone Garden. Her first short story collection, Synthesis and Other Stories, was widely hailed by critics as one of the best collections of 1996. She has also written a trilogy of mystery novels under the name Mary Freeman. Her most recent book is a major new science fiction novel, Horizons. A graduate of Clarion West, Rosenblum lives in Portland, Oregon.
* * * *
He wouldn't have seen her arrive if his board hadn't broken down. He wouldn't have known. Qai stepped back against the carved-ice facade of a tea vendor's stall, holding his narrow board like a silver shield in front of him. He caught only a glimpse before she vanished among the passengers disembarking from the monthly shuttle, as they hurried across the gangway to the Ice Palace arrival dock with its tiny customs gate. Most scattered quickly, IDing their way through the "resident" gate, moving with the purposeful skimming strides of travelers returning home. Only a couple of newbies. You could always tell them by the way they walked, high-stepping in slow motion in the thirteen-percent earth-normal gravity—as if walking on a waterbed. And they panted. The nano—red cell transfusions didn't really make up for the low atmospheric pressure and minimal oxygen of Europa's sea-level ice caverns. And of course, they looked up to the vast arch of the Ice Palace dome, its natural ice walls flickering with rainbows in the broad-spectrum light of the Lamp, veined with multicolored moss. Everyone felt it, first time on Europa… the enormous weight of the ice shell pressing down on them.
Download


Copyright Disclaimer:
This site does not store any files on its server. We only index and link to content provided by other sites. Please contact the content providers to delete copyright contents if any and email us, we'll remove relevant links or contents immediately.