Maddie and Daddy by Carolyn Faulkner
Author:Carolyn Faulkner [Faulkner, Carolyn] , Date: July 2, 2021 ,Views: 100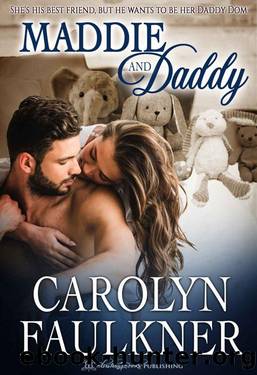 Author:Carolyn Faulkner [Faulkner, Carolyn]
Language: eng
Format: epub
Publisher: Blushing Books Publications
Published: 2021-05-02T18:30:00+00:00



Chapter 8
Although he'd done his best to tucker her out and she did sleep for a while, Maddie awoke to a coughing fit that was so bad, it had her retching and reaching for the bowl. She did her best to suppress it, because he was lying asleep behind her, and she didn't want to disturb him.
When she'd started this coughing bout, he'd changed positions restlessly, but as soon as she could, she ran out into the living room, hoping to keep him from coming completely awake.
She set herself up in one of his comfy twin recliners, with a throw over herself, reclining as little as she possibly could. That didn't help as much as actually sitting up in it, so that was what she did, creating a bit of a nest for herself with a glass of ice water to help soothe the tickle, a box of Kleenex, the bottle of prescription cough meds, and lozenges by her side.
She put the TV on to a news channel, just to have the sound of soft voices in the background and settled in, hoping—after taking a big swig of the cough syrup—that she'd go back to sleep.
But her mind insisted on replaying the events of earlier this evening, her thought process immediately hijacked away from anything other than those memories. Especially since both her bottom and other parts of her were still very much alive with the two sides of what he'd done to her, the sting of her behind and, inches away, the slowly fading tendrils of ecstasy, pulsating almost but not quite in sync, so that she was perpetually being reminded of both of them. And the combination was very nearly all she needed to climax yet again.
Eventually, though, through that sensual haze, her insecurities began to get the better of her. She could barely believe what had happened, automatically—out of force of habit—discounting out of hand what he'd said to her as the heat of the moment or some kind of aberration, or, at its worst, some kind of pity.
The bald truth was that the things he'd said and done were right out of her deepest, darkest desires—he couldn't have come up with a fantasy to fulfill for her that was any closer to what she actually tended to think about when overcome by that urge—usually when she'd been in close proximity to him for an extended time.
He'd called himself "Daddy," a name she'd been suppressing around him or occasionally using sarcastically in reference to him, for quite some time. He'd said that he'd show her how loved she was and that he knew she was sometimes little, and he had already altered the endearments he used with her to reflect that knowledge.
He'd said that she was safe and loved—things she'd always felt around him—and that he'd take care of her, and he'd already been taking wonderful care of her. And he'd reinforced, with his body and his fingers and his voice—dear Gawd, his voice—her submission to him, especially when he'd commanded her to come for him.
Download


Copyright Disclaimer:
This site does not store any files on its server. We only index and link to content provided by other sites. Please contact the content providers to delete copyright contents if any and email us, we'll remove relevant links or contents immediately.