Interrupted Life - Etty Hillesum by Etty Hillesum
Author:Etty Hillesum [Hillesum, Etty] , Date: February 14, 2020 ,Views: 103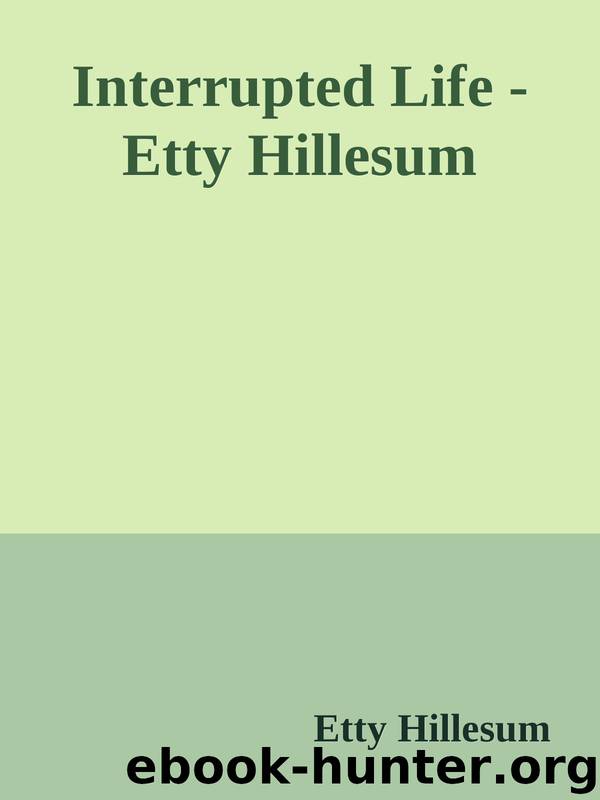 Author:Etty Hillesum [Hillesum, Etty]
Language: eng
Format: epub
Published: 0101-01-01T00:00:00+00:00



Letters from Westerbork
Westerbork
Monday, 1:00 P.M., in the Mahlers' cubbyhole, where Eichwald is at this moment making me porridge. 1
My dear people,2
I really am going to send off a letter to you at last. This is the fifth time I've started. One experiences too much here and goes about with too many conflicting feelings to be able to write. Anyway, I can't. So I just send you my greetings. Besides, I think I'm going to have to come back to Amsterdam fairly quickly to have myself finished off in a high-class abattoir. I'm no good for anything, it's really very sad, there is so much to be done here. But there it is, something inside me has gone wrong, I am living on painkillers and will probably turn up without warning under your dearly loved noses. There is nothing I can do about it. Funny, I've been here nearly three days-it could be three weeks. It isn't as "idyllic" as in the summer, nothing like. I'll go and have a nap, and after that I'll start the endless march again through the barracks and the mud. What a pity I can't
stay; I wish so much that I could. Vleeschhouwer is just coming m; I'll give him this letter. Good-bye for now, everyone, and please forgive this short, messy scribble.
Lots of love,
Etty Sunday evening, 29 November 1942
Father Han, Kathe, Hans, Sister Maria, greetings, that's all.
I find it impossible to write here, not for lack of time but because of all the different impressions that come bursting in. I'm sure I could talk for a year at a stretch about this one week. I am on the leave list for next Saturday. What a privilege to be able to get away from here and see you all again. I'm glad I didn't plunge into the thick of things during the first few days; once in a while I take to my bed for an hour, and then things are all right again. Suitcase, clothes, and blankets are ready. The Mahlers take wonderful care of me. It is now half past eight and I am sitting once more in their hospitable little nook, a real oasis. Next to me Vleeschhouwer is immersed in a book. Mahler and his wife and two friends are playing cards. Little Eichenwald, my faithful milk-provider, sits on the floor in a corner next to the dog Hump ie, unpicking the seams of Mijnheer Speyer's coat, which he wants to turn into a lumber jacket. Sterzenbach's brother (this is for Hans) is writing letters and in a moment will tell us more about his prison experiences. Auntie Leah's trusty little stove stands in the corner brewing all sorts of good things for the assembled company. Just now Witmondt came in (I visited his wife a few times in Amsterdam; the people around me are all such close friends that I feel you know them well, too). He was wearing a voluminous cape, and we shouted in chorus, "Good God, Max,
Download


Copyright Disclaimer:
This site does not store any files on its server. We only index and link to content provided by other sites. Please contact the content providers to delete copyright contents if any and email us, we'll remove relevant links or contents immediately.