How to Love Wine by Eric Asimov
Author:Eric Asimov , Date: March 25, 2014 ,Views: 396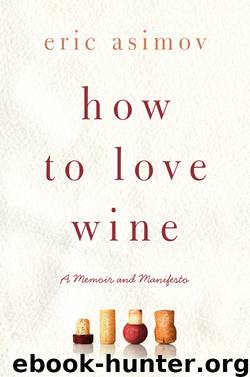 Author:Eric Asimov
Language: eng
Format: epub, mobi
Publisher: HarperCollins
Published: 2012-09-30T16:00:00+00:00



The Arc of Discovery
After my one class, I never felt the inclination to return for another. I don't mean to denigrate wine classes. They have their proper time and place. But at the point that I was getting serious about wine, I intuitively felt that taking more classes, or investigating different schools, was not right for me. I didn't want to learn how to taste, I wanted to feel the pleasure of good wines. Reading about food made me hungry. I craved the joy of good food, not classes in how to describe how food tasted. I felt the same way about wine. Taking a wine class seemed to me about the same as traveling in a tour group with a guide telling you where to look. I felt perfectly capable of traveling by myself and discovering wine by myself.
As fascinated as I was by food and wine, I still never considered getting into the wine business. I was not exactly passionate about my job at the Times. I had spent a few years as an editor on the national news desk, and I now thought of myself as a journalist. But my professional ambition was not, as my father would have wished, to manage a newspaper. Looking back now, it's amazing to me how transparent he was in shifting his own ambition to me. He wanted to run a newspaper, and he had gotten high in the hierarchy at Newsday, but never received the top job.
"When you know what you're doing," he once said to me, "you want to be in charge. The problem is that too many people with authority have no idea what they are doing."
He would emphasize the joy of planning, of managing, of control. If he heard me tell him repeatedly that I was going to be a reporter, and that managing other people was the last thing I wanted to do, he wasn't buying it.
When I joined the Times, I made no secret of my desire to write, but I was warned that the newspaper had no tolerance for people who got their feet in the door as editors, then set about to become writers. I was told the job tracks were kept separate, and if I knew what was good for me I'd stick to what I was hired to do.
These were threatening words, and they were repeated often—at meetings with bosses, in evaluations, in casual conversations after work or in the cafeteria as inexperienced young editors like me tried to figure out their places in this intimidating new world. Yet as I looked around the newsroom and began to learn people's personal histories I could see that the notion of an impermeable barrier between editors and writers simply wasn't true. Plenty of editors had gone on to become reporters, and almost all of the star editors at the paper had started out as reporters.
The Times was an intimidating place in the mid-1980s. Each evening's work seemed animated by yelling, cursing, frowning, and
Download


Copyright Disclaimer:
This site does not store any files on its server. We only index and link to content provided by other sites. Please contact the content providers to delete copyright contents if any and email us, we'll remove relevant links or contents immediately.