Haraken by S. H. Jucha
Author:S. H. Jucha , Date: January 14, 2021 ,Views: 21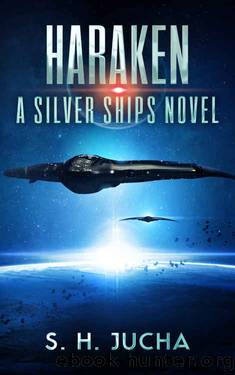 Author:S. H. Jucha
Language: eng
Format: mobi
Publisher: S. H. Jucha
Published: 2016-03-01T00:00:00+00:00



-18-
"What type of insanity builds a world like this?" García asked, looking around at the terminal station. The Earthers rode their transport car for three hours before it halted at a terminal and the doors slid open. There was a certain lack of military decorum as the militia troopers piled out of both doorways at a run, but no one objected.
"Major," said a first lieutenant, "do you notice that there's no signage? We don't even know if we've reached our intended destination, returned to the original terminal, or are somewhere else."
"We are at the originating terminal, Lieutenant. You can be sure of that," Barbas replied.
"May I ask how you know that, Major," the lieutenant replied, searching the station's walls again for a clue.
"Every station we passed … every single one of them … people were standing and waiting, and cars were arriving and leaving. This station is barren. No cars, no people," Barbas replied. He was disgusted with how easily they had been tricked and stood with hands on hips, fuming.
García regarded his angry militia leader. "We've been taught a lesson, Major, a lesson indeed. Get our men back to the shuttle. I'm sick of this strange world."
The Earthers took the lifts back to the terminal's ground floor, passed through the lobby, and out through the open terminal doors to the landing fields. There was no one in sight, and nothing hindered their exit.
The terminal controller signaled Ser Quinlan, who was busy regaling his wife, children, and grandchildren, who were visiting, with the events of the day. The message simply said, <The intruding shuttle has left Méridien airspace with all passengers back aboard.>
* * *
Major Barbas wasn't the only one fuming. Uncharacteristically, so was Leader Ganesh. She was barraged with messages from House Leaders reporting that armed Earthers landed at Lemuel Terminal and were now traveling the transportation corridors in a car.
Winston, the Council SADE, connected Mahima to Devon O'Shea. <What do you know of this story, Leader O'Shea? Is it true?> Mahima demanded.
<Which story, Leader Ganesh?> Devon sent back, enjoying a small thrill from having Mahima Ganesh at a disadvantage.
<Do not play your Haraken games with me, Leader O'Shea. Answer me in Méridien fashion!> Mahima demanded.
Mahima's anger dissuaded Devon from continuing his charade. <An armed force of Earthers did land, Leader Ganesh, but not before most of the terminal was evacuated. The terminal manager, Ser Quinlan, stalled the Earthers until the evacuation was complete. A transport car was provided for the Earthers, who were sent on a ride through our transport system for a few hours. They have been returned to the terminal and are leaving via their shuttle as we communicate.>
<And who authorized the Earthers to use our transport system, Leader O'Shea?> Mahima asked, hoping she found something to use against Devon, who she knew was not a supporter of her Council position.
<I believe the entire process of minimizing the Earthers' impact on our people and terminal was arranged by President Racine with the assistance of his SADEs,> Devon replied, his thoughts casual.
Download


Copyright Disclaimer:
This site does not store any files on its server. We only index and link to content provided by other sites. Please contact the content providers to delete copyright contents if any and email us, we'll remove relevant links or contents immediately.