Forever Mine by Monica Burns
Author:Monica Burns , Date: July 9, 2020 ,Views: 164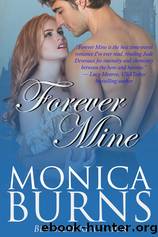 Author:Monica Burns
Language: eng
Format: mobi, epub
Publisher: Maroli SP Imprints
Published: 2014-12-01T11:00:00+00:00



Chapter 21
Rain hit Nicholas's office window with increased force as the wind blew harder. There was a cold bite to the wind that combined with the rain made his leg ache. He reached out to wipe the condensation off the glass pane to improve his view of the wet landscape. The gray weather suited his morose mood. This morning he'd managed to bungle his way through his argument with Victoria like a clumsy oaf.
Last night had been incredible. The way she'd responded to him had fired his blood. No woman had ever aroused him to the point he'd completely lost all control of his faculties. The fact that he'd made love to her without protection was proof of that. He could only pray he'd not sired a child. And the way she'd sucked on his cock. She'd seemed to understand exactly what he needed and when.
The way her tongue had stroked every inch of him made him believe she'd cared as much about his pleasure as she did hers. But it was her naughty manner he loved the most. With just a few words, she had managed to fill him with a powerful need to possess her.
Then in the morning's cold light, he'd realized just how experienced his wife was and why. The knowledge had stirred feelings deep inside him that were alarming. The thought of her with another man twisted his gut with anger. It was a territorial emotion that made him want to eviscerate any man who had even dared to look at her, let alone touch her.
That possessive feeling is what had driven him to question her about her past. He should have realized before he spoke how Victoria would react. Since her return she had acquired a number of different habits and social behaviors that could have predicted her reaction to his queries. She was right in thinking that the past shouldn't matter. But it did matter to him. Just not in the way she thought.
What the hell was happening to him? He'd told Victoria last night that she had bewitched his entire household staff. What he hadn't told her was that she was bewitching him too. Now he had to consider how to set things right with her. Victoria hadn't been just angry with him. There had been a disappointment and sense of defeat about her. He had injured her greatly by implying she was just like Vickie. He knew better, but his poorly made argument had only erected a brick wall between them. A wall he wasn't sure how to bring down. A knock on his office door made him turn around as Derek Elrod, his estate manager, entered the office.
"Good morning, Elrod." Nicholas walked to his desk and sat down. He gestured to his estate manager to take the seat opposite him.
"What do you have for me this morning?"
"Just a few things, my lord."
Seated behind the large desk, Nicholas watched his estate manager sit down across from him and open a leather folder. Elrod retrieved several documents and passed them across the desk.
Download


Copyright Disclaimer:
This site does not store any files on its server. We only index and link to content provided by other sites. Please contact the content providers to delete copyright contents if any and email us, we'll remove relevant links or contents immediately.