Fire on the Rio Grande by Kevin H. Evans
Author:Kevin H. Evans [Evans, Kevin H.] , Date: October 21, 2023 ,Views: 53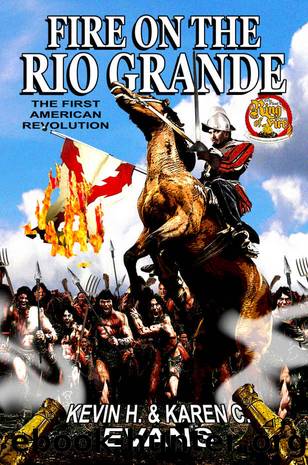 Author:Kevin H. Evans [Evans, Kevin H.]
Language: eng
Format: epub
Published: 0101-01-01T00:00:00+00:00



Chapter 12
Village of Bernalillo
November 1634
Father Philip was in his small scriptorium in the church, settling his vestments. He and Don Federico thought it best to appear at the meeting looking official. It was not often that Father Philip wore vestments, as most of his time was taken up with the schools and educating the children in the local area. But this was a new responsibility. He felt that if he could help the people into a peaceful transition and teach them all to exist together, they would become so strong no outside force could conquer them.
As it was, his vestments were rather plain. It was difficult to obtain brocaded cloth here in the wilderness, and his own talents never ran to embroidery. So he had the chasuble and scapular, both in red. They were a stark contrast to his normal attire, the black cassock. Raymundo helped him dress, and Father Philip was decidedly nervous. "I'm not sure how my students will react. It's not like I've worn these much. They're a little creased. Perhaps I should wait until they can be fixed."
Raymundo said little. It was not his place to instruct the Jesuit missionary. Luckily, Don Federico tapped on the scriptorium door, then stuck his head in the room. "Father Philip, what's the delay? We have everyone in the chapel because it is the largest indoor space we have. If only it weren't already on the edge of winter, we could meet outside and make everyone comfortable."
Father Philip held his arms out to the side, showing the fullness and sweep of the chasuble. "I feel a little silly in this. I've never been the one to direct meetings and such. Maybe I should just let you do in. You don't really need me, do you?"
Don Federico stopped and blinked. "Wasn't it you, only a couple of weeks ago, pointing out that if I am Governor General, you are Father President? We need to show them that we are united in purpose and intent, and that we're not engaging in personal conflict. Heaven knows that there is already enough conflict. I heard just this morning that a Navajo band raided the Apaches up north. We need to do what we can to unify and Christianize this territory. And I need you by my side. It's time to go."
Father Philip let his hands fall to his sides, and he let out a deep sigh. "Oh, very well. I guess there's no escape. Lead on, Don Federico."
The new Governor General was decked out as well, with his fine black doublet with gold braid and a half-circle cloak that fell to mid-calf, appropriate for horseback riding. He was also wearing a rather tall black hat that made him appear taller than his regular five foot seven.
The two left the scriptorium and made their way to the front of the church. Sitting in the pews was a mixed bag of men, some from Pueblo villages, some from the Navajo and Apache tribes, and some from Spanish settlements that had failed to evacuate.
Download


Copyright Disclaimer:
This site does not store any files on its server. We only index and link to content provided by other sites. Please contact the content providers to delete copyright contents if any and email us, we'll remove relevant links or contents immediately.