Ferment by Patrick Dobson
Author:Patrick Dobson , Date: July 28, 2020 ,Views: 273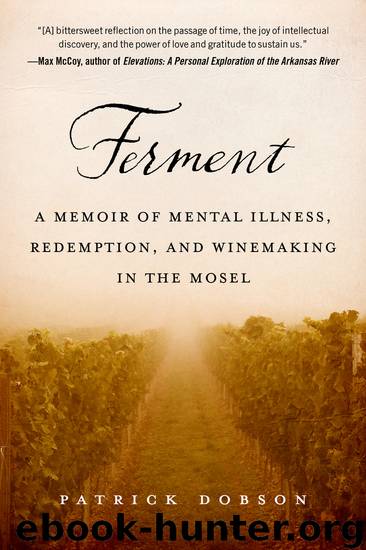 Author:Patrick Dobson
Language: eng
Format: epub
ISBN: 9781510757325
Publisher: Skyhorse
Published: 2020-06-03T16:00:00+00:00



* * *
Virginia had known Udo since he, Ivo, and Andrea came to our wedding celebration in 1999. Virginia and I had wanted to show off our Hispanic neighborhood and held the event in the Sacred Heart Catholic Church basement a hundred feet from our front door. A neighborhood restaurant on the next corner from our house catered enchiladas and rice and beans. Beer came from the neighborhood brewery. Neighbors played in a mariachi band. The whole block attended the wedding, along with our relatives and friends. For our German visitors it was an America they had yet to see. Udo, Ivo, and Andrea stayed in our six-hundred-square-foot house for the visit. We brought them on our "honeymoon," a weekend in a Missouri state trout park at Bennett Springs.
Once we settled into a spacious park cabin, Udo and I walked that night up around the hatchery. We kept going beyond the streetlights and out onto the dark highway. No cars passed. He was nervous walking in the night, but I convinced him there was nothing to fear. We hiked wordlessly in an alley of hardwoods under a starry sky. "It's beautiful," Udo said after a while. "I never walk in the night at home. Some friends of mine own a little cabin up on the Alb. When it's dark, I stay close to home. There's something magnificent about this."
Since then, Virginia had seen Udo in 2000 on our visit to Germany, and again in 2012 when Udo and Ivo came to visit us in Kansas City. They'd spoken by phone many times in the intervening years and exchanged Christmas and birthday cards. Udo had a great affinity for Virginia, and she for him.
Download


Copyright Disclaimer:
This site does not store any files on its server. We only index and link to content provided by other sites. Please contact the content providers to delete copyright contents if any and email us, we'll remove relevant links or contents immediately.