Empire Night on Union Station (EarthCent Ambassador Book 18) by E. M. Foner
Author:E. M. Foner [Foner, E. M.] , Date: August 6, 2020 ,Views: 181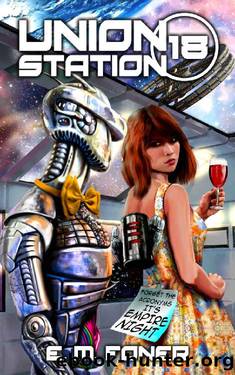 Author:E. M. Foner [Foner, E. M.]
Language: eng
Format: epub
Publisher: Foner Books
Published: 2020-07-05T06:00:00+00:00



Twelve
"The cooler will automatically ping us if the sandwiches start running out, but you'll have to judge the cookie demand for yourself," the Gem caterer told the EarthCent ambassador's son. She extended a tab. "Please swipe your acknowledgment."
"I can tell you based on the last two days that I'll be out of cookies by mid-afternoon," Samuel said after complying with the request. "This whole business with the Human Empire has really raised the profile of the tradeshow with all of the species."
"Then I'll send somebody by right after lunch to top you up."
"Didn't I deliver a gross of cubed mangos with raspberry sauce to you at the lounge for the observers last night?" the second Gem said to Samuel. "How can you be working for both the Humans and the Vergallians?"
"I have a full-time job at the Vergallian embassy, but we're mainly shutdown for Jubilee, so I'm on loan to EarthCent when I'm not working at this booth," Samuel explained.
"Ping us if you think of anything else," the first clone said. "We have lots of deliveries to make."
"I hope that doesn't mean everybody else is giving away free food. I count on the cookies and sandwiches to keep people here long enough for me to swipe their badges and make my pitch."
"Queens must be a hard sell to free peoples, though I hear the Alts are pretty happy with their results," the clone observed. "And don't worry about losing foot traffic. Everybody else on my list is just getting a few of this or that so it must be for their own lunch. You're lucky all the sales reps don't come here and eat your food."
"Good point," Samuel acknowledged. He double-checked that there were enough bottled drinks to last for a while in the ice tub and rearranged the glossy brochures for newly opened Vergallian worlds. "At least I have something concrete to promote this year," he muttered to himself.
"May I?" asked a woman in her mid-thirties, pointing at the tray of cookies that was still covered with cling film.
"Be my guest. And drop a card in the fishbowl to win a free trip to Aarden."
"And to end up on the Vergallian embassy's marketing list, no doubt," the woman said, but she dropped a plastic chit in the fishbowl. "Isn't Aarden a Fleet world? Your name tag indicates that you're representing the Empire of a Hundred Worlds."
"Relations have improved and Fleet agreed to co-promote," Samuel said. "I've never been to Aarden myself, but I understand they host one of the largest sovereign human communities. Now that the Empire of a Hundred Worlds is experimenting with the open world concept, we'll look to them as our model."
"Interesting. I'm here representing the Timble Documentary Performers Union—we have a booth where you can sign up for a vacation that includes work as an extra." There was a loud chime. "That's the opening bell so I better get back," she said, and left without ever having told Samuel her name.
"Just like a Grenouthian," the EarthCent ambassador's son muttered to himself.
Download


Copyright Disclaimer:
This site does not store any files on its server. We only index and link to content provided by other sites. Please contact the content providers to delete copyright contents if any and email us, we'll remove relevant links or contents immediately.