Dress for success by Molloy John T
Author:Molloy, John T [Molloy, John T] , Date: July 26, 2019 ,Views: 521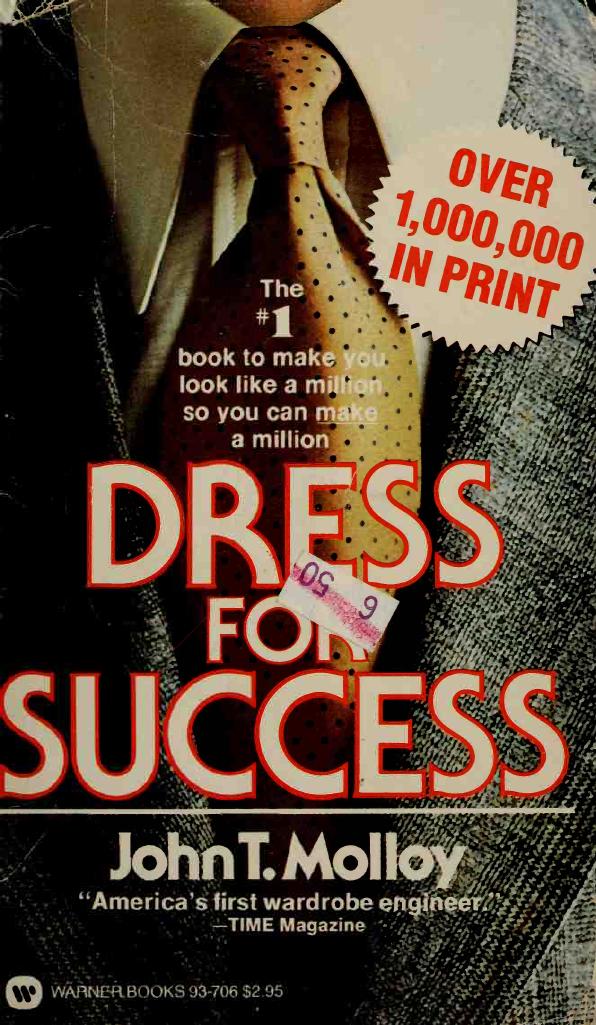 Author:Molloy, John T [Molloy, John T]
Language: eng
Format: epub
Tags: Men's clothing, Grooming for men
Publisher: New York : Warner Books
Published: 1976-06-19T19:00:00+00:00



lively. President Ford's ties, which are much too gaudy for the rest of the country, are conservative business ties in a large part of California.
Much of California business, particularly industries that have never been noted for being conservative, has adopted dress codes best described as bizarre. I once knew a carpet salesman who was exceptionally successful in California and used a wardrobe consisting of a velvet jacket, slacks and a shirt open a fair way down. Impressed with his abilities, he decided to conquer the greener pastures of New York. By his third day on the job his boss had already received two calls objecting that the previous salesman had been replaced by a "homosexual."
The biggest mistake made by salesmen in California is not that they ignore California dress codes, but that they go along too far with them. In entire industries, no one wears suits; no one wears ties; turtlenecks are very in and the leisure suit is considered rather dressy. Salesmen coming from other parts of the country, and even some local salesmen who are selling important products or services, think they can dress the same. This is not true. If you are selling your services as an accountant to a California firm that maintains very liberal dress codes, you should still dress as accountants do pretty much everywhere, because people in certain professions are expected to dress in certain ways and will encounter negative reactions if they dress in ways that run counter to expectations.
THE NORTHEASTERN LOOK
The last—but hardly the least—section of the country that operates under a special set of dress rules is the Northeast (excluding major corporate headquarters). In the Northeast, three dicta are basic: Be conservative, be traditional; be neat. If you obey those three, you really should have no problems, although it is also important in this part of the country not to be any more up to date in your clothing than the people you are dealing with.
The Northeast is still the bastion of the dark conservative business suit, and the best is a solid dark blue. The
best shirts are solid white or solid blue, and the best ties are rep, polka-dot and club.
AGE MAKES PLENTY OF DIFFERENCE
When the age of a buyer is over forty-eight, it is essential that the seller dress in the following manner, assuming that he is over thirty-three:
He should have no long sideburns and no hair covering his ears. His best suit is a conservative solid or pinstripe blue, anywhere in the country. Solid white and solid blue are the only absolutely safe shirts, because many men over forty-eight react negatively even to subtle stripes in shirts.
Ties that are always acceptable to this group of men are solid, rep and club. In the Northeast, and in corporate headquarters, the Ivy League tie is also acceptable. Although men over forty-eight may themselves wear very gaudy ties reminiscent of patterns and colors acceptable in their youth, salesmen can do so only at considerable risk.
Men over forty-eight will make some
Download


Copyright Disclaimer:
This site does not store any files on its server. We only index and link to content provided by other sites. Please contact the content providers to delete copyright contents if any and email us, we'll remove relevant links or contents immediately.