Divided Spirits: Tequila, Mezcal, and the Politics of Production (California Studies in Food and Culture) by Sarah Bowen
Author:Sarah Bowen [Bowen, Sarah] , Date: July 20, 2020 ,Views: 138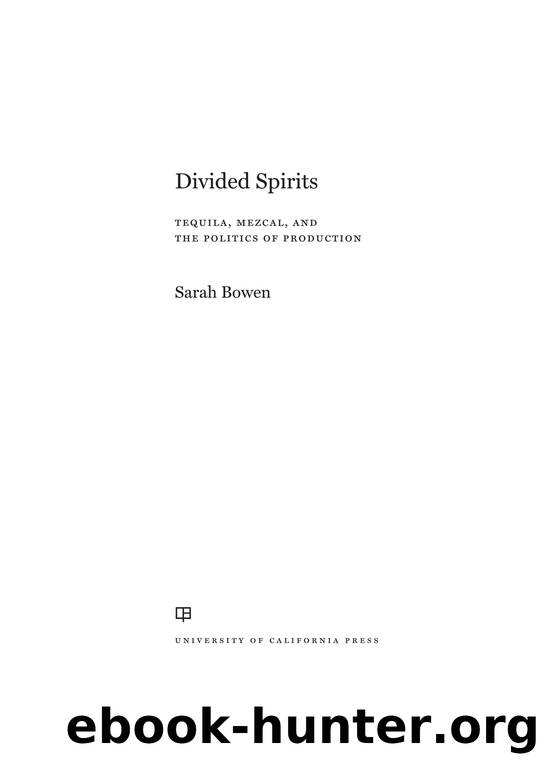 Author:Sarah Bowen [Bowen, Sarah]
Language: eng
Format: azw3
ISBN: 9780520281042
Publisher: University of California Press
Published: 2015-09-21T16:00:00+00:00



MAKING MEZCAL OFFICIAL
As I discussed in chapter 2, mezcal has a long history of clandestine production, largely in response to periods of prohibition and taxation, which have varied widely between states. In the 1940s, a handful of larger producers and bottlers began expanding their markets, at first mostly selling their mezcal in Oaxaca City and Mexico City.9 In 1975, mezcal was first exported to the United States.10 However, even as the size and scope of the market for mezcal expanded, most mezcaleros remained small, producing mezcal for their families and local markets. In a 1977 study of the industry, State Department attaché Mylie Walton wrote that, except for the commercial distilleries near the Pan-American Highway that ran through central Oaxaca, mezcal-making "was a small-scale operation carried on mostly by Indians who gathered wild agaves or cultivated them on village lands." According to Walton, when demand for mezcal was high, "any small river course back in the mountains [could] serve as the site for several makeshift palenques."11
In the 1980s, a shortage of agave drove more than one thousand small distilleries out of business. Many of the producers who were left began mixing their mezcal with cane alcohol. As described by writer William Foote, the "little mezcal [that] was still being produced had plunged to the category of rotgut at best, poison at worst."12 Worried consumers started boycotting mezcal. By the early 1990s, the industry was in desperate need of change. The debates that ensued were linked to larger debates over the regulation and protection of local food systems. One group focused on preserving the traditional methods that distinguished small mezcaleros from Jalisco's industrial tequila distilleries. This perspective reflected the growing global interest in protecting traditional foods and drinks from the "sea of mass production" engendered by the global food system.13 But the perspective that ultimately prevailed was one that emphasized following in tequila's footsteps, promoting the modernization of mezcal production and adopting protective institutions that embodied the Mexican government's embrace of neoliberalism.
In 1994, the National Chamber of Commerce for Mezcal submitted an official petition to register mezcal as a DO. The organization, assembled a few years earlier, was composed of large bottlers and producers, primarily from Oaxaca but also from Durango, Guerrero, San Luis Potosí, and Zacatecas. Pedro Mercade Pons, the first president of the Chamber, had been the first person to export mezcal to the United States, under the label Monte Albán; Jorge Chagoya, a member of one of Oaxaca's elite mezcal-producing families, succeeded him. The Chamber aimed to protect its members' right to produce mezcal and to advocate for regulations that would bring the mezcal distilleries in line with the strict sanitary and quality standards of foreign markets.14
Both the DO and the quality standard for mezcal were established in 1994.15 Like the institutions that regulated the tequila industry, the DO defined where mezcal could be produced, while the standard outlined how it was to be made. Controversially, only five states (all represented by the National Chamber of Commerce for
Download


Copyright Disclaimer:
This site does not store any files on its server. We only index and link to content provided by other sites. Please contact the content providers to delete copyright contents if any and email us, we'll remove relevant links or contents immediately.