David Livingstone: Africa's Trailblazer (Christian Heroes: Then & Now) by Janet Benge & Geoff Benge
Author:Janet Benge & Geoff Benge [Benge, Janet & Benge, Geoff] , Date: June 3, 2020 ,Views: 280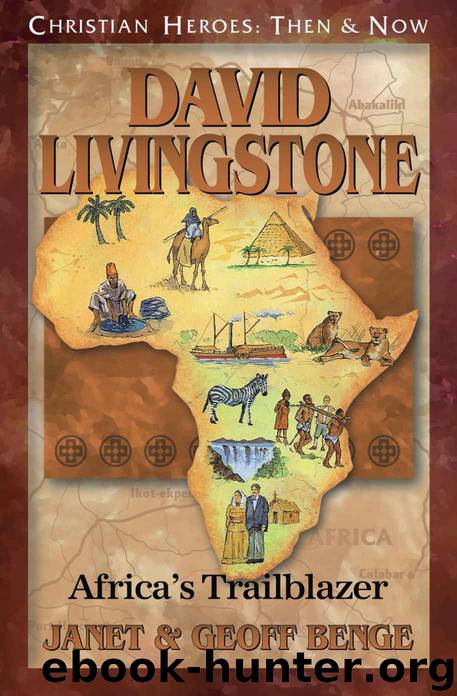 Author:Janet Benge & Geoff Benge [Benge, Janet & Benge, Geoff]
Language: eng
Format: epub
Tags: Biography, History, Non-Fiction, Childrens
ISBN: 9781576581537
Amazon: 1576581535
Goodreads: 430314
Publisher: YWAM Publishing
Published: 1999-07-01T00:00:00+00:00



Chapter 11
A Married Man
Dark-haired, twenty-three-year-old Mary Moffat tipped her head and stared at David Livingstone. "You are serious, aren't you?" she asked.
David looked into her deep brown eyes and nodded. "Yes," he said, "I would like you to be my wife, Mary. I know it will not be an easy life…."
"No life is easy," interrupted Mary matter-of-factly. "Look at my father and mother. Everyone thinks my father has the model mission station for all of Africa here at Kuruman, but no one knows how much work it takes to keep it all going."
David chuckled. He had picked a practical woman, that was for sure. "Well, what do you say, Mary?" he prodded nervously.
"Mary Livingstone. I like the sound of that!" she said, nodding her head. "Do you think January would give you time to build us a house?"
David smiled at his soon-to-be wife. "I think that will do just fine. A midsummer wedding, it is then!"
David could hardly wait to get back to Mabotsa and start building. Whenever a hunting party was traveling through on its way south, he would write a letter to Mary telling her how the house was coming along. He even drew pictures of the house for her.
The house progressed quickly. It was fifty-two feet long and twenty feet wide, a typical rectangular mission house. The front door led into the center room, which was the living room. To the left was a bedroom, and to the right a pantry and a study. The kitchen was a small building completely separate from the house. All kitchens were built this way because of the heat the ovens generated and because the ovens sometimes caught on fire. If the ovens did catch fire, the fire might burn down the kitchen but not the entire house.
About halfway through the project, David ran into a problem, which he described in a letter to Mary: "A stone falling was stupidly, or rather instinctively, caught by me in its fall by the left hand and it nearly broke my arm over again. It swelled very much, and I fevered so much I was glad of a fire, although the weather was quite warm."
It took two weeks of complete rest before David was up and about again. David realized, however, that it was useless to try to lift his arm higher than his shoulder, so he gave up the idea of building a solid stone house. Instead, the house was completed with plastered mud walls. David used helpers from the village to do the work when his arm became too painful.
Roger Edwards could not help David because he'd had an accident in which he had crushed a finger. David doubted that Roger would have helped anyway. The relationship between the two missionaries had become strained, especially now that David was about to become Robert Moffat's son-in-law.
The two men disagreed over things small and large. Roger continually reminded David that he was the junior missionary at the station, both because he was thirteen years younger and because he had been in Africa only three years.
Download


Copyright Disclaimer:
This site does not store any files on its server. We only index and link to content provided by other sites. Please contact the content providers to delete copyright contents if any and email us, we'll remove relevant links or contents immediately.