Darwinia by Robert Charles Wilson
Author:Robert Charles Wilson [Wilson, Robert Charles] , Date: March 25, 2014 ,Views: 242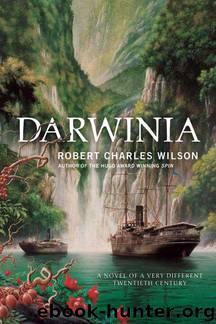 Author:Robert Charles Wilson [Wilson, Robert Charles]
Language: eng
Format: mobi, epub
Tags: Europe, antique, Alternative Histories (Fiction), Photographers, SteamPunk, Alternative History, General, Science Fiction, Fiction
ISBN: 9780765319050
Publisher: ORB BOOKS
Published: 1998-01-01T23:00:00+00:00



Despite their best efforts, Sullivan wouldn't wake up.
Tom Compton rocked on his heels for a time, deep in thought. Then he hitched his pack over his shoulder and shrugged out of the rope harness. "Hell with it. Look, I'll bring blankets and food from the sledge for both of you. After that you stay with him; I'll go for help."
"He's wet and nearly freezing, Tom."
"He'll freeze faster in the open air. Might kill him to move him. Give me a day to reach camp, another day to get here with Keck and Farr. Farr will know what to do. You'll be all right — I don't know about Sullivan, poor bastard." He frowned fiercely. "But you stay with him, Guilford. Don't leave him alone."
He might not wake up, Guilford thought. He might die. And then I'll be alone, in this godforsaken hole in the ground.
"I'll stay."
The frontiersman nodded curtly. "If he dies, wait for me. We're close enough to the top, you ought to be able to tell night from day. You understand? Keep your fucking wits about you."
Guilford nodded.
"All right." Tom bent over the unconscious shape of Sullivan with a tenderness Guilford had never seen in him, smoothed a strand of gray hair from the botanist's dank forehead. "Hang on, you old cock-knocker! You damn stupid explorer."
Download


Copyright Disclaimer:
This site does not store any files on its server. We only index and link to content provided by other sites. Please contact the content providers to delete copyright contents if any and email us, we'll remove relevant links or contents immediately.