Daddy's Friend (Yes, Daddy Book 15) by Lena Little
Author:Lena Little [Little, Lena] , Date: March 26, 2021 ,Views: 82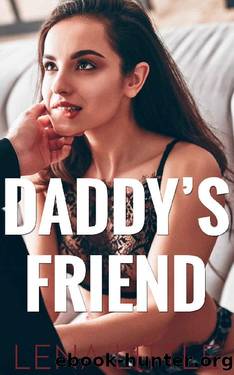 Author:Lena Little [Little, Lena]
Language: eng
Format: epub
Published: 2020-12-16T18:30:00+00:00



8
Gabe
"I definitely like the stone and the way it's set in that one," she points to the necklace behind the counter.
"Can I help you with anything?" the clerk asks, and I turn to Gaby at the same time she turns to me.
If she wasn't interested she would blurt it out, I know her. But she just freezes, and then says, "No, we're okay."
"That one. We'll take it."
"Gabe!" she protests, slapping me on the shoulder playfully and making me feel like a kid all over again, or at least the childhood I never had that I'm living inside me now all the while also having these fatherly feelings kindled within. The dichotomy is not mutually exclusive, and she's awoken two very distinct parts of me. I'll take it as it comes, and we're taking that necklace no matter how much she protests.
"Market research," I wink. "You can tell me why you like it when we get home."
"I like it because it's a gift from you," she says, grabbing my arm and wrapping herself around it.
"And I like it because my favorite person in the world will be wearing it."
"Why else?" she asks, as the clerk rings it up.
"Because it's elegant, yet not flashy. Because there's more to it than first appears, and because it's bright and imaginative, cheerful and full of hope." I pause. "Like someone I know," I add, playfully sticking my index fingers in her ribs, and she giggles as if she were the Pillsbury Dough Boy's sister. It's beyond cute and I freeze for a second, realizing the word cute has now entered my vocabulary for the first time in over four decades, and to up the ante, I skipped right from regular ol' cute and advance straight to beyond cute.
My girl is changing me…and I like it because it means I can better connect with her and that's what's most important.
"Ready to get out of here?" I suggest as the clerk hands me back my change and then the chain. I don't opt for a bag because I want her to wear it now, a sign to all men that she's claimed by a man, one and only one man, and they are not me.
"Where are we off to next?"
"First to get this around that swanlike neck of yours," I suggest, as I sweep her hair to the side and carefully clasp the necklace in place, making sure not to get any of her silky smooth locks tangled up in her new gift.
I lean in closer, even though the necklace is already fastened, and inhale deeply against her neck. Her fruity shampoo mixed with the light coat of sweat from our session just thirty minutes ago is an intoxicating cocktail, and I'm drunk on the scent of what amounts to strawberry sweat…because it's her scent, and can't be bought in a bottle anywhere. It belongs to her and she belongs to me.
Taking her hand I lead her out of the jewelry shop. "Do you always pay with cash?" she questions.
Download


Copyright Disclaimer:
This site does not store any files on its server. We only index and link to content provided by other sites. Please contact the content providers to delete copyright contents if any and email us, we'll remove relevant links or contents immediately.