Cirque Du Soleil by Bacon John U
Author:Bacon, John U. [Bacon, John U.] , Date: August 5, 2020 ,Views: 212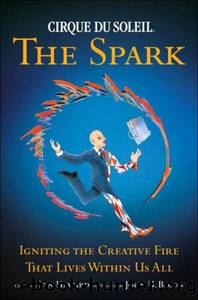 Author:Bacon, John U. [Bacon, John U.]
Language: eng
Format: epub
Tags: Business
ISBN: 0385662114
Amazon: B000GCFBOC
Publisher: Random House Digital, Inc.
Published: 2006-04-11T06:48:28+00:00



Swinging for the Fences
Cari had planned to meet several of the other performers for lunch to discuss their acts, but promised to catch up with me again later in the day. Walking through the main hallway on my way to lunch—with my makeup still on—I noticed a short man on crutches, bouncing around on his one good foot, the other trailing behind him in a neon cast. His leaps and bounds were unusually energetic for someone on crutches. Even more striking was his hair, which was coifed into two pointy, red-tinted "horns." But the infectious smile he gave me made it clear there was nothing malevolent about this devil.
"Are those real?" I asked him, pointing to the horns.
"What is 'real'?" he retorted playfully. He pointed to my painted face. "Is that real?"
I paused for a moment, then said, "Absolutely."
"Aha. Then you know why I wear my hair this way—to provoke, to excite, to have fun. When I see a hundred people with this look, I will cut the horns off, but until then, I'll keep them."
"What happened?" I asked, looking down at his crutches.
"I broke a bone in my foot. That is why I am here, building up my strength, and coaching some of the new people, instead of performing in KÀ in Las Vegas. When I was first injured, I thought, Ohhhhhhhh no. I will be out of the show for three months. But I've decided to make the best of it. And look, I can still move!"
He dropped his crutches and spun into a somersault. Back on his foot, he introduced himself as Martin; he was a twenty-seven-year-old acrobat from Quebec City who'd been working at Cirque for five years. "I never expected to work for Cirque," he said. "I just went to the tryouts to do some stunts and have a good time. At first, I was not very good at acrobatics. I'm a gymnast—I was trained to do gymnastic routines—so some of the craziest acrobatic stunts were new to me. But I kept at it, practicing after everyone else went home. And I tried to put my own spin on things. When a coach asked me to do a back flip, I did the craziest back flip I could imagine. And that's why I think I made the cut—I always did more than anyone expected.
"It's like your game baseball," he continued, mimicking the stance of a batter up at the plate, digging his good foot into the floor, choking up on his crutch as if it were a Louisville Slugger. "Sometimes you strike out, sometimes you hit a homer. But in life, no one cares how many times you strike out; all that matters is your home runs. And you get to bat as many times as you like! Anyone can be a home-run king if they just take enough at bats!"
What Martin was saying hit home. When had I gotten so worried about making a mistake that I'd stopped swinging for the fences? Alan used
Download


Copyright Disclaimer:
This site does not store any files on its server. We only index and link to content provided by other sites. Please contact the content providers to delete copyright contents if any and email us, we'll remove relevant links or contents immediately.