Bonds of Blood by J. N. Chaney & Terry Mixon
Author:J. N. Chaney & Terry Mixon [Chaney, J. N. & Mixon, Terry] , Date: August 6, 2022 ,Views: 5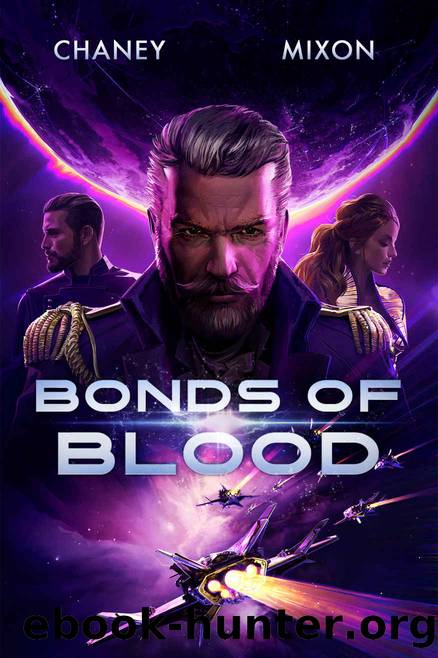 Author:J. N. Chaney & Terry Mixon [Chaney, J. N. & Mixon, Terry]
Language: eng
Format: epub
Tags: military, SF
Amazon: B09SM7WFRC
Publisher: Variant Publications
Published: 2022-04-24T00:00:00+00:00



19
Jack ducked back out of sight and ran. He didn't have the kind of firepower he'd need to fight that many people, so his only option was to be somewhere else.
He half expected them to give chase, but they obviously had a goal in mind and didn't recognize the significance of his rank tabs. They thought he was just another Navy guy and took potshots at him while continuing on to their target.
And that was fine with him.
Since he couldn't make it to the bridge, Jack headed for operations. Among other things, it contained auxiliary control, and he'd be able to influence events from there. Of course, if the bridge and engineering were targets, so was the operations center.
Dubsky would have a contingency plan to protect all of those locations, but there was no telling if she'd gotten it fully implemented yet. He wasn't sure whether he'd find the area under the control of pirates or Marines.
The operations center was buried in the ship's depths—like the bridge—only toward the ship's bow. It took up significantly more space than the bridge itself, but its stated purpose was to provide additional insight to the officers serving on the bridge.
Under ideal circumstances, they'd have teams of specialists to interpret data and give the bridge officers exactly what they needed to perform their duties. Auxiliary control would've been manned with a backup team to replace the bridge if called on. Unlike operations, it was currently staffed.
He didn't make it there before he ran into pirates. Thankfully, they didn't see him before he dodged into a side corridor. They hadn't been able to get into auxiliary control because someone was ordering up a breaching charge. The crew must've sealed the hatch.
The area was a warren of small compartments, and Jack was able to slide into one of those. Some of the consoles had been used for flight control when they'd first brought the battleship online, but those personnel had moved, and the space was now empty.
Or it should've been.
To his surprise, he found a dozen Marines in unpowered combat armor there. The Marines slowly lowered their weapons and allowed him to advance. Obviously, his face was recognizable enough that they knew who he was. Thank goodness for small favors.
When he reached the noncommissioned officer in charge of the group, the man gestured for Jack to put his ear next to his mouth and spoke softly. "You about got yourself shot there, sir. Why don't you stay behind us for now? We're waiting for reinforcements, and then we'll attack the pirates outside auxiliary control."
Jack nodded. When he spoke, he made sure to pitch his voice just as low as the man had. He didn't want to attract the pirates' attention.
"Where is Dubsky?"
"She's nearby, sir. When this kicks off, she'll be in the thick of it."
The Marine tilted his head and nodded to himself. "She just gave the call to move into attack positions, so it's game on. You stay here, sir, and we'll take care of the pirates for you.
Download


Copyright Disclaimer:
This site does not store any files on its server. We only index and link to content provided by other sites. Please contact the content providers to delete copyright contents if any and email us, we'll remove relevant links or contents immediately.