Bastion of the Reaper by J. N. Chaney
Author:J. N. Chaney [Chaney, J. N. & Moon, Scott] , Date: February 24, 2021 ,Views: 52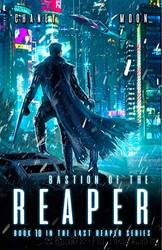 Author:J. N. Chaney [Chaney, J. N. & Moon, Scott]
Language: eng
Format: epub
Publisher: Variant Publications
Published: 2020-03-17T16:00:00+00:00



17
We flew away from the ocean harvesting platform with the wind behind us. It was darkest before the dawn and the weather wasn't improving visibility. So I was surprised when a ray of sun broke through the clouds.
I wasn't strapped in spite of X-37's repeated admonitions to put safety first. I sat on the floor of the bay with Briggs beside me.
The broken harpoon point stuck out like an insult. I began brushing them off of my exoskeleton in broad angry sweeps. Commander Briggs and I hadn't been friends until our destinies brought us to this weird place. I didn't want to look at Elise or path or anybody else who might die in the next battle.
"I'm sorry, Reaper," Elise said, her voice soft.
I didn't think she was looking at me either. Each of us were in our own space, not quite able to believe that Briggs was dead.
Tom joined us a short time later, once the ship was almost over the mainland again. He didn't say anything. His mood was somber.
Without discussing what we were doing, we loaded the huge, heavily muscled mutant onto an equipment mover and took him to our tiny medical bay.
"I don't know what to do with a body like this," Tom finally said. Elise shifted uncomfortably behind me. I could sense the body language of my friends. Even path was unnerved by this event.
"I know what to do," I said. "I've been trained in forensic preservation techniques. I had missions to bring home people dead or alive, and that often included proving they were dead. Other times, my superiors wanted the bodies for darker purposes—experiments, I imagine."
No one spoke. I waited until they left me alone and then began to clean up the Slayer.
Download


Copyright Disclaimer:
This site does not store any files on its server. We only index and link to content provided by other sites. Please contact the content providers to delete copyright contents if any and email us, we'll remove relevant links or contents immediately.