At His Mercy by S.S. Richards
Author:S.S. Richards , Date: March 7, 2021 ,Views: 39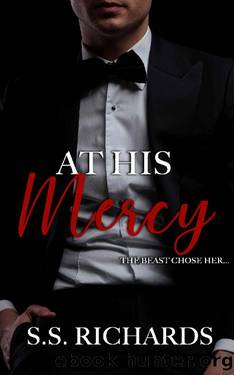 Author:S.S. Richards
Language: eng
Format: epub
Published: 2019-11-25T18:30:00+00:00



"How long has she been sleeping for?"
A familiar voice echoes in my head. I open my eyes slowly. My body feels like it has just been hit by a train.
"Ever since you put her in bed, sir. She hasn't awoken ever since."
Says Yeva.
I blink three times in order to be able to see through the blurriness that's filling my vision. Then I see his face. He looks like a Greek god dressed in a fancy suit. I don't move and remain in my position, eyes pinned on the one man my heart races for. I hate him, yet I can't seem to stop my mind from constantly fantasizing about him and my body from reacting to him the way it does. His eyes drift to me and they grow two sizes bigger.
"Elena?" he asks.
I don't say anything to him but rather struggle to pull my body in a sitting position. I have no idea how long I've been sleeping for. But considering the numbness of my legs and the heaviness of my whole body, it has to be more than ten hours of sleep.
I look at Yeva, whose hand is at her chest. Her smile is soft and apologetic.
"We were worried about you, Elena. Thank the Lord you are okay," she says softly and I flash her a warm smile.
Ignoring Maksim's gaze, I say, "What time is it, Yeva?"
"It's almost seven in the evening. You've slept since yesterday night," she explains.
"Yeva, go get her food," he tells her firmly and without saying another word, she walks out of the room, leaving us alone along with the tension that's slowly building up around us.
"How are you feeling?" he asks.
"I'm okay."
"Does this happen often?"
I look into his eyes.
"What do you mean?"
"Passing out of whatever it is that's in your head."
I look away from his cold, intimidating gaze, embarrassment coiling around me. He is the only man who can read through me. He understands me like nobody else. There's no fooling him no matter how hard I try. I swallow thickly and take a deep breath. Then I look straight into his eyes, and for the first time in my life, my heart skips a beat just from one single look at him.
"I've been hurt a lot in my life. When my brain cannot take the pain anymore, it just . . . shuts down."
Tears burn the back of my throat, so I close my eyes and silently try to calm myself. A moment of silence prevails until a strong, warm hand strokes my cheek. His hand smells like he usually does—sandalwood, money, and power. I open my watery eyes slowly and look at him. I gaze at the most handsome man my eyes have ever witnessed. The man I love to hate, and that I hate to love.
"I know how it feels. For your mind to shut down completely. That's your escape. You've trained yourself to run away from the darkness that lives inside of you through training your mind to shut down.
Download


Copyright Disclaimer:
This site does not store any files on its server. We only index and link to content provided by other sites. Please contact the content providers to delete copyright contents if any and email us, we'll remove relevant links or contents immediately.