American Disruptor by Roland De Wolk
Author:Roland De Wolk , Date: July 6, 2020 ,Views: 122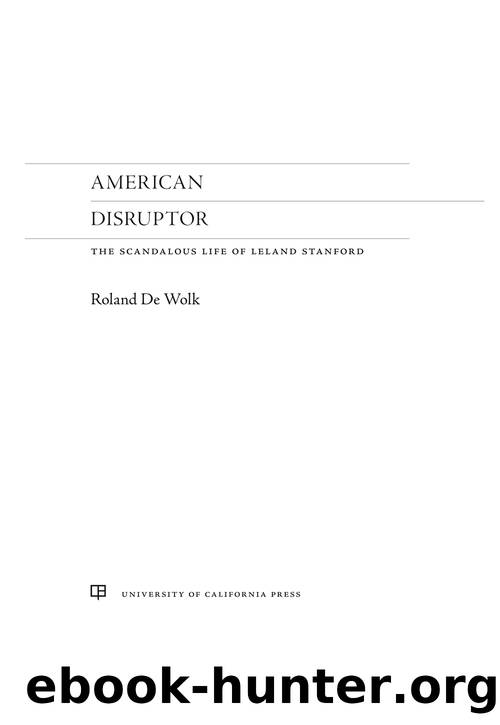 Author:Roland De Wolk
Language: eng
Format: epub
ISBN: 9780520305472
Publisher: University of California Press



Jennie Stanford had been a quiet, if somewhat ostentatious presence so far, enduring the scorn of the more established San Francisco moneyed class with the same stoicism she had mustered in the face of slander more than two decades earlier, as she waited three years in Albany while her husband relied first on his brothers then his three partners in his early California days. But Leland had done what he thought fitting to compensate her, first with properties and parties, then by bedizening her with jewels. The spectacle of Jennie's gems, noted with some derision by Huntington, caught a good deal of attention, and as with that from her husband's business partner, not all of it very pleasant. "Mrs. Stanford was a very large woman," wrote a society woman of the time. "Not particularly refined—and rather careless about her grammar but she wore magnificent jewels—such emeralds and diamonds!"25
In addition to gems she owned that were once the property of Empress Joséphine, first wife of Napoleon, "Mrs. Leland Stanford bought a set of the most beautiful opals surrounded with diamonds, which had belonged to the ex-empress Eugenie," noted the New York Sun.26 It was hardly an exception. "Queen Isabella II, a hearty and apparently not quite bright nymphomaniac, who was deposed from the Spanish throne in 1868, sold Tiffany's over $1,600,000's worth of gems, which the Spanish Bourbons had been hoarding for one hundred and fifty years. Most of Isabella's jewels became the property of Mrs. Leland Stanford," noted a history of Tiffany & Co. "If America as a whole owned more diamonds than all the courts of Europe, three women—Mrs. John Jacob Astor, Mrs. Clarence Mackay and Mrs. Leland Stanford—were each were said to own more jewels than any of the crowned heads, with the exception of Victoria and the Czarina of Russia."27
Of course, travel to places such as Tiffany & Co. in New York was by train, and although the executive coaches were for Stanford, they would have also been available to his partners. In 1882 Jennie quietly commissioned the exclusively private "Car Stanford." It was a luxurious coach with extra-heavy steel rails along the bottom to ensure an especially smooth ride. The interior boasted velvet and hand-rubbed rosewood, heavy carpeting, and furniture of blue crushed plush. Plate-glass windows surrounded the sitting room, "affording an excellent view that Mr. Stanford could make a very thorough inspection without leaving the car. At every important station these windows were polished."28 A five-octave organ was near the hallway, which ran down to the dining room, where the upholstery was of leather. A full-time chef was assigned to the car, and he was responsible for provisioning the coach with everything from frozen oysters, to fresh produce, to cookies that were three inches square and half an inch thick. Jennie Stanford ordered those in boxes of five hundred.
To top it off, the Stanfords started spending a considerable amount of time touring the most fashionable, expensive parts of western Europe. Their declining health was one
Download


Copyright Disclaimer:
This site does not store any files on its server. We only index and link to content provided by other sites. Please contact the content providers to delete copyright contents if any and email us, we'll remove relevant links or contents immediately.