Adrift by Jaycee Weaver
Author:Jaycee Weaver , Date: January 20, 2023 ,Views: 176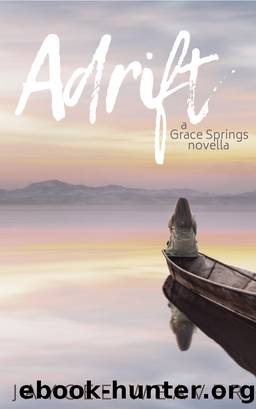 Author:Jaycee Weaver
Language: eng
Format: epub
Tags: dreams, grief, clean romance, widow, short romance, romance ebook, second love, romance sweet, love after loss, free romance
Publisher: Jaycee Weaver



Chapter 6
A warm breeze stirs the air with that strangely delicious smell you only find near the water. It's earthy, mossy, and a little fishy, but in a good way. Fresh. I feel the rocky sand common to our desert lakes under my feet, the color of cement.
The kids are upwind somewhere, their laughter reaches my ears though I can't see them. I feel completely at peace. A familiar hand is snugly wrapped around mine and our arms swing between us to the slow cadence of our steps.
I always know when I'm dreaming, but tonight's dream isn't like any of the others I've had the past several months. Usually I'm in the water. Tonight, it's not Jesus walking the shore or keeping me afloat.
It's Jonah. I know his hand like I know my own. I'm afraid to look at him, though, so I just walk as we lightly swing our hands and listen to the soft tide washing in and out.
"Hey," he stops and tugs my hand, forcing me to face him. I gasp, unable to fill my lungs with life sustaining breath.
He's smiling at me, that same smile he had the moment our eyes met on opposite ends of the long, white aisle so many years ago. That smile he had the days each of our kids were born. The one that filled his face when he finally quit working for his dad and followed his dream. That same smile he gave me—and only me—each and every time he noticed me walk into a room.
Even in my dream, I rub the spot on my chest.
"I miss you."
"I know, babe. I know. But I am so proud of you. You're doing great! I can't believe Deacon is learning to drive and Krissy's got her first real crush."
"She does?" This is news to me, but I guess he's privy to a lot more than I am, being in the presence of God all the time and such.
"She does, but he's a good kid. The Lord has some great things in store for her down the road. Deac, too. I'm just so proud of how you're raising them, Er."
"Thank you," I answer softly, "though it's not the same without you here. I hate doing this on my own."
"I know, Sweetheart, I know. But our plans weren't His plans. You've got a lot of years ahead of you. Good, happy, full years."
"Yeah?" I grin. "I like the sound of that. Tell me more."
He grins back, his golden-brown eyes the color of raw honey, are shining with that teasing glint that always made my heart flutter.
"You know I can't do that. I only have a few more minutes before your alarm goes off, anyway."
Heat and moisture burn in my eyes and it's hard to breathe again.
"No, no, baby, don't cry, okay? No tears in heaven, remember?"
"Is that where we are?"
"Not really, but then, you know that, too. Now. The Lord wanted me to come to you with a message tonight. He says your time adrift is about over.
Download


Copyright Disclaimer:
This site does not store any files on its server. We only index and link to content provided by other sites. Please contact the content providers to delete copyright contents if any and email us, we'll remove relevant links or contents immediately.