Abigail Adams by Phyllis Lee Levin
Author:Phyllis Lee Levin , Date: March 24, 2020 ,Views: 187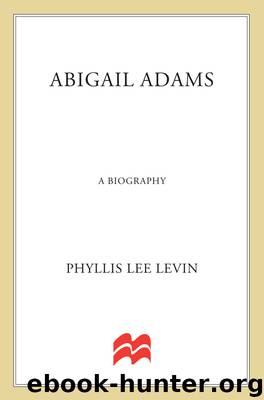 Author:Phyllis Lee Levin
Language: eng
Format: epub
Publisher: St. Martin's Press



NINETEEN
Enough of Public and Private Anxiety
As silently as she could, on Wednesday night, April 26, 1798, Abigail slipped into the New Theatre on Chestnut Street in Philadelphia. Avoiding the President's box—she was attempting to be "perfectly in cogg [incognito]"—she sat instead with friends, including the Secretary of the Senate, Samuel Allyn Otis, and Representative Daniel Buck and their wives. It was only the second time she had ventured out to the theater this season, frankly motivated, in this instance, by "Great curiosity" about the special song implanted between a three-act play called The Italian Monk, a monologue on Sir John Falstaff, and a two-act opera called Rosina. The special song, "Hail Columbia," coupled Judge Joseph Hopkinson's impressive, recent lyrics (just about forty-eight hours old) with Philip Phyle's stately music, already familiar as "The President's March" of Washington's term, and was indeed timely:
Firm, united let us be,
Rallying round our liberty,
As a band of brothers joined
Peace and safety we shall find.1
The rousing reception of the song gave Abigail a headache, but one she bore with joy. The song signified political redemption, at last, for John. Until now, Abigail had complained, French tunes "usurped an uncontrould sway." Only recent cries of "perfidy" from the American envoys in France, and charges ranging from discourtesy to dishonesty, had drastically altered sentiments. One heartening example of the new American atavism afforded Abigail particular satisfaction. On recent evenings, she had been told, the first popular song of the French Revolution, the vibrant "Ça ira," favorite also of the Federalist Francophiles, had been shouted down by cries for the native "Yankee Doodle Dandy" and for "The President's March." Now Abigail could hear for herself, with the greatest satisfaction, Hopkinson's healing and binding words that transformed the march into a national song.2
The theater was full, the audience irrepressible. At curtain time, its members joined the British singer and actor Gilbert Fox on the fourth round of "Hail Columbia," clapping thunderously throughout the last chorus, rising and giving voice to cheers that might have been heard, Abigail supposed, a mile away. She was exultant, supremely gratified that the new national song reinforced the President's message to Congress. At last, after groping through months of tangled rumors, John was able to expose the bizarre facts of the imperiled relationship between America and France. She welcomed respite from intense anxiety for all involved, on all counts. Her own personal involvement was no secret. How could anyone be an indifferent spectator, Abigail asked her nephew, William Shaw, "in Times so critical, so allarming and so big with Concequences as the present?"3
* * *
If John Adams had appointed a diarist for his administration, he could not have hoped to find one more observant, informed, and literate, albeit partisan, than his own wife. Frustrated by peripatetic reports from France, exasperated by the Federalist press, the faction in favour of war, whose "wicked and base, violent & calumniating abuse" could only be quenched, in her opinion, by the passage of a sedition act, Abigail sought justice at her writing table.
Download


Copyright Disclaimer:
This site does not store any files on its server. We only index and link to content provided by other sites. Please contact the content providers to delete copyright contents if any and email us, we'll remove relevant links or contents immediately.