10-Minute Toughness by Jason Selk
Author:Jason Selk , Date: July 21, 2020 ,Views: 302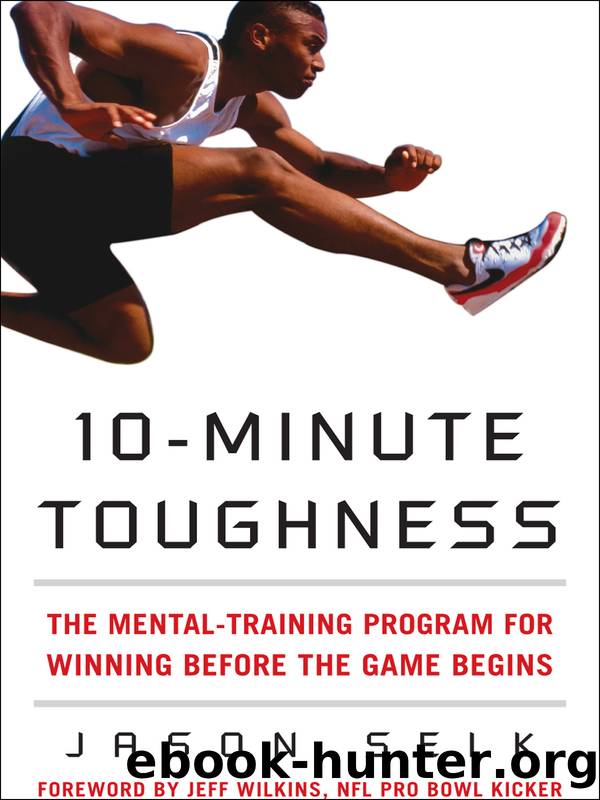 Author:Jason Selk
Language: eng
Format: epub
Publisher: McGraw-Hill Companies,Inc.
Published: 2009-07-14T16:00:00+00:00



Keep Goals Alive, and Live the Dream
As I stated earlier, most coaches and athletes look at goals only a couple of times per season. This is not an effective use of goals. For goals to work, they must become a part of daily training. I said this to a Division I basketball coach, and he looked at me as though I was crazy. He asked me facetiously, "What are you talking about? Do you think we have time to take our personal goal sheets out to practice with us every day? Are we supposed to look at our goals before every drill, or would you prefer we chant these goals as we run sprints?" I responded with a straight face, "Yes, Coach, I think that is exactly what you should do, and then you could all hold hands and sing songs around the campfire." Thankful that he laughed at my joke, I proceeded to ask him a few questions about how he was currently using goals.
"When you are out there at practice," I asked, "does every coach have a clear idea of exactly what you are trying to improve?" He answered dryly, "Yes, they do, or they won't be on the staff for long." I then asked, "How about every player?" Again he responded without emotion: "They better." I knew I would get his attention with the next question: "What if I were to tell you that when I spoke with some of the players, very few could actually tell me what specifically they were trying to improve?" The coach looked at me as though he were about to make me run sprints. Their answers included, "We're just trying to get better" and "We do the drills to make the coaches happy." The real problem is that this posture is often the norm: most athletes don't take full advantage of the power of goals.
In fact, Stephen Covey1 reported in his book The 8th Habit that only 37 percent of individuals have a clear understanding of what their team is trying to achieve and why they are trying to achieve it, and only 20 percent are enthusiastic about the organization's goals. Covey's findings indicate that only four of the eleven members of a basketball team know the team's keys for success, and only two of the eleven really care about it (and those numbers include coaches).
I don't think athletes need to carry their goal sheets around during practice, but athletes and coaches alike will benefit considerably from spending a couple of minutes prior to practice identifying exactly what it is they want to improve that day. Goals must be utilized for them to work—and the more often, the better. Let's try a little experiment:
Download


Copyright Disclaimer:
This site does not store any files on its server. We only index and link to content provided by other sites. Please contact the content providers to delete copyright contents if any and email us, we'll remove relevant links or contents immediately.