Zom-B Clans by Darren Shan
Author:Darren Shan [Shan, Darren] , Date: July 19, 2014 ,Views: 355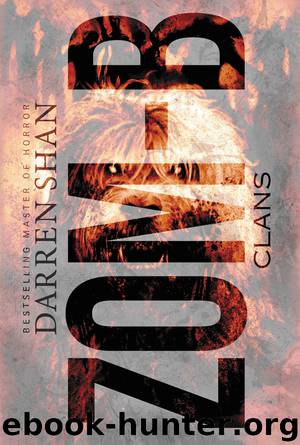 Author:Darren Shan [Shan, Darren]
Language: eng
Format: mobi, epub
ISBN: 9780316214292
Google: qFhjAgAAQBAJ
Amazon: 0316214299
Publisher: Hachette Digital, Inc.
Published: 2014-07-08T05:00:00+00:00



The doc spots us through the glass of the lab door and hurries out into the courtyard to greet us. He's smiling warmly, arms spread wide. Then he spots Dan-Dan and draws to a halt. Nobody says anything for a moment while we wait for Dr. Oystein to compose himself.
"It is good to see you again, my Angels," he murmurs. "But I must admit I am surprised by the company you are keeping."
"This is–" I begin to tell him.
"–Lord Daniel Wood," Dr. Oystein cuts in. "I recognize him from pictures I've seen in the past, but even without them I would have known him from your accurate description after your stay on the Belfast. I see that his penchant for naval outfits remains."
"You can't go wrong with a good sailor's costume," Dan-Dan smirks, then adds, "I know you too. I've heard many tales about the fabulous Dr. Oystein. Our owl-eyed friend is full of them."
"You consort with him now?" Dr. Oystein asks coldly.
"Oh yes. We're the best of friends."
The doc mulls that over, then looks around and frowns. "Jakob is not with you. Is he…?"
"Don't worry, he's fine," I tell him.
"He's become the deputy mayor of New Kirkham," Shane says, and the doc stares at us uncertainly. "Honestly. I'm not kidding."
"It sounds as if you have had a most unusual adventure," the doc mutters.
"And it's not over yet," I growl. "The KKK took Vinyl and a load of other people prisoner. Owl Man wants us to swap Dan-Dan for them. That's why we haven't ripped his throat out."
"Yet," Shane adds for good measure.
Dr. Oystein looks astonished. "This is grave, unsettling news. You must tell me the full story. Zhang will need to hear it too. Give me a few minutes to finish up. I will meet all of you in Zhang's rooms presently."
As we turn to leave, the doctor calls to Dan-Dan. "Lord Wood, I welcome you to County Hall and offer you my protection during your stay with us."
"Very kind of you," Dan-Dan says, taken aback.
"But if you even look sideways at any of my young Angels," the doc says softly but firmly, "I will tear your flesh from your bones in as slow and excruciating a manner as possible. And bear in mind that I have had decades to consider such procedures."
As Dan-Dan's cheeks redden in a rare moment of unconcealed terror, Dr. Oystein says, "Get this piece of rotting flotsam out of my sight," then heads back into his lab to tidy up and cool down.
I've never seen the doc this worked up before. I have to say, it is a delicious surprise. If I could bottle Dan-Dan's expression, I'd take pleasure from it every single day for the rest of my life. Take that, you putrid, child-killing scum!
Download


Copyright Disclaimer:
This site does not store any files on its server. We only index and link to content provided by other sites. Please contact the content providers to delete copyright contents if any and email us, we'll remove relevant links or contents immediately.