Writing Down Your Soul: How to Activate and Listen to the Extraordinary Voice Within by Conner Janet
Author:Conner, Janet [Conner, Janet] , Date: June 23, 2014 ,Views: 1177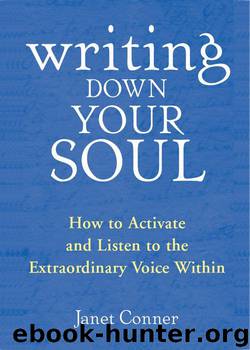 Author:Conner, Janet [Conner, Janet]
Language: eng
Format: epub, mobi
ISBN: 9781609250058
Publisher: Red Wheel Weiser
Published: 2009-01-01T00:00:00+00:00



Write Down Your Soul
Dear Voice,
Am I ready to accept your invitation? Do I really want
you to talk with me? How do I know I'm ready?
What do I need to do to truly open to your Voice?
Ask for an Understanding Heart
If consciously wanting to hear the Voice is your RSVP to its invitation, asking for understanding is comparable to walking in the door and seeing the feast the Voice has prepared for you. Just imagine how different my experience with the Voice would have been in 1997 if I had asked for understanding instead of victory.
Solomon, the Old Testament king, understood the importance of understanding. His father, the Jewish king David, had named Solomon his heir to the throne just before he died. Solomon then married the daughter of the Egyptian pharaoh and moved to Jerusalem to begin construction of a temple and his palace. At that point life looked pretty spectacular. But Solomon understood that he wasn't equipped to be king. He turned to Yahweh and prayed:
Now, Yahweh my God, you have made your servant king. . . . But I am a very young man, unskilled in leadership . . . . So give your servant an understanding heart, to govern your people, to discern between good and evil, for how could one otherwise govern such a great people as yours? (I Kings 3:7-9)
What a simple, beautiful, and profound prayer: give me an understanding heart. It was, by the way, the right request. Not only did Yahweh give Solomon the wisest heart ever known, Yahweh gave him things he hadn't asked for, like riches, glory, and a long life.
It is the understanding heart that does the deep listening. Your understanding heart is one and the same with your innermost spiritual ear. When you ask the Voice for understanding, you create a space in your heart for fresh awareness, new learning, real discernment, and profound seeking. When you ask for understanding, you express a willingness to go deep to tap into the Truth of the universe.
Download


Copyright Disclaimer:
This site does not store any files on its server. We only index and link to content provided by other sites. Please contact the content providers to delete copyright contents if any and email us, we'll remove relevant links or contents immediately.