Witness Tree by Lynda V. Mapes
Author:Lynda V. Mapes , Date: April 7, 2018 ,Views: 1379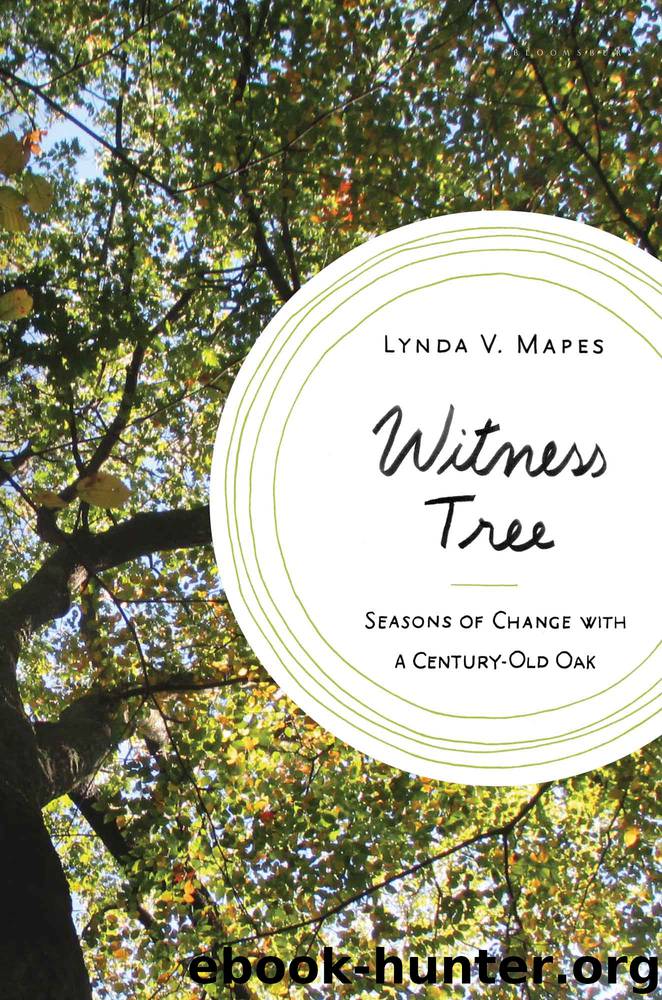 Author:Lynda V. Mapes
Language: eng
Format: epub
ISBN: 9781632862549
Publisher: Bloomsbury Publishing
Published: 2017-02-21T05:00:00+00:00



Some scattered individuals along the western edge remained standing, where resistance was low, and wind able to break through. Owing to tropical rains preceding and accompanying the storm, less than normal anchorage was offered by the sodden ground, and wide, spreading, shallow root systems were quickly loosened by violent and erratic gusts of wind attending the hurricane. Everything was cut and bucked into logs and sold where they lay, the slash piled and burned while snow covered the ground.
Checking a map of hurricane damage, it's clear that parcels right next to the oak suffered severe damage—just across the wall, the map marks the area "destroyed." Yet right where it grew, damage was rated as "moderate," with only 11 to 25 percent damage, by some quirk of topography, or chance. One advantage, for sure, was the tree's young age at the time of the hurricane: it was just thirtysome years old, and probably able to just bend down with the wind. Or perhaps its roots, hunkered by that stone wall, stood a better chance of not ripping free from the ground. I've often noticed a big rock gripped by the oak's roots at its trunk, too, and wondered how big that rock is under the ground. And perhaps this is how the tree's lean and twist got started?
Another big ice storm struck in 1962, and a devastating gypsy moth attack knocked back the oak's growth not once, but twice, in 1944 and 1981: I can see that in the rings in its core. Its summerwood both years has a distinct pinch, one of the few years in which the tree noticeably slows its growth. Indeed in this oak, as in other red oaks at the Harvard Forest, the last twenty years show one dominant characteristic: growth, the fastest ever recorded, and faster than in any other species.
"Trees are like people," Pederson said. "They are individuals. But as a population, they say something. In the late wood, if the rings are getting bigger, that could be climate change. If we are seeing it at a larger scale here, and other places, then it's less likely to be local ecological conditions." Trees tell us history, Pederson said, but they also hint at the future. Trees are talkative. Our job now is to hear them.
Download


Copyright Disclaimer:
This site does not store any files on its server. We only index and link to content provided by other sites. Please contact the content providers to delete copyright contents if any and email us, we'll remove relevant links or contents immediately.